"Verified" Fans Help Ticketmaster Battle Bots
Ticketmaster is attempting a new offense in the ongoing battle over ticket bots, with the help of "verified" fans.
With its new "Ticketmaster Verified" program, the ticket-selling behemoth is trying to make a dent in the $8 billion secondary and scalper market. It began rolling out the "verified" program last year with smaller shows but kicked off the effort in earnest with presales for Ed Sheeran's North American tour.

The presale market was most attractive for rolling out the program as the offers, typically for a day or two and made available to holders of certain credit cards or members of a band's fan club, are often swamped and overrun by illegal bots that snatch up all the tickets.
In an interview with Recode, David Marcus, Ticketmaster's head of music for North America, says his company's software "asks fans to provide personal information including their phone number, email and social info, like their Facebook account," and then uses that information to determine which ticket purchasers are people and which are bots. The Ticketmaster program scrubs users' information to determine whether the would-be buyer has purchased tickets in the past. Buyers who are up to Ticketmaster's standards are notified that they're able to purchase tickets.
According to Ticketmaster's website, "Fans register via webpage. We then review every registration based on proprietary Ticketmaster data and distribute unique codes via text message prior to the presale. In some cases where there is limited inventory, not all verified fans will receive a code and registrations will be randomly selected."
To sign up for presale through the Verified Fan program, registration links will be posted on the Ticketmaster site for the event, via an email from Ticketmaster, or through the artist's website or social media profiles.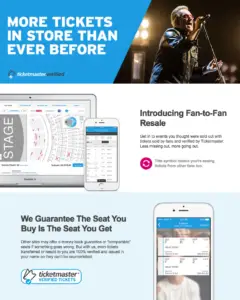 "Bots are about speed and if you make the distribution about speed, you're fighting a very hard battle," Marcus told Recode. "If you make it about identity, it's much different."  He also says that less than 1% of tickets purchased via the verified program have wound up on secondary markets, a stark decline from numbers typically in the double-digit range.
Some watching the Ticketmaster efforts from the sidelines are skeptical of what's going on here.
Gary Adler, executive director of the National Association of Ticket Brokers (NATB) and the organization's legal counsel, tells me that members of his organizations that are ticket resellers have been against bots for years and were supportive of the federal legislation signed by President Obama in the last few weeks of his administration.
"Battling bots is a good thing, and technological solutions may help companies like Ticketmaster in the fight against bots," he says. "A bot-battling strategy should not be used in any way to prevent ticket brokers from legitimately purchasing tickets. Bots are unlawful, but the secondary market for ticket resale is not. A concerted effort to prevent ticket resellers from purchasing tickets will only result in less choice for consumers and higher prices. Consumers value having more than one choice for tickets beyond Ticketmaster and its fees, and the supply and demand nature of the secondary market often results in ticket sale for below face value."
On the other hand, Ken Lowson, the inventor of ticket bots, does give Ticketmaster credit for doing the "righteous thing. Hey, after 50+ years, maybe they have a human heart and will decide to lose money because fan happiness is a more righteous cause!"
He claims, however, Ticketmaster encourages scalping and that the verified program is a slight-of-hand distraction from their tactics.
"The 'Verified Fan' program is typical disinformation strategy," Lowson says. "Like so many other fan-friendly effort made by Ticketmaster," including wristbands, efforts to be first in line, the application of ticket limits, the use of CAPTCHA anti-bot software and exclusive presale offers. "All (of those practices are) examples of anti-scalp and fan-friendly solutions created by Ticketmaster, except every one of them created scalping profit growth."
Lowson says he could identify nearly all scalper purchases if he had access to Ticketmaster's sales records, all of which he could review without exposing private financial information. On the other hand, Ticketmaster could "increase their credit card acceptance criteria. As of now any scalper can buy rotating pre-paid cards and always be a new customer with new data. Ticketmaster mentions cutting down bots. Killing bots has been possible since I invented bots."