Vevo – The Latest Saviour of the Music Business?
As the music industry continues to deal with the rise of streaming and is looking at ways to improve, and grow, its fortunes, it seems the latest model of hope for growth falls to Vevo.
"Vevo is the #1 music platform worldwide."
This is what Vevo, the seven-year-old online video startup co-owned by Universal and Sony, proudly tells its prospective advertisers.
Although it might not be the most talked-about – or certainly the most lucrative – music service in existence, Vevo has a fair defense for the boast.
Every month, the platform reaches 400m unique users, and serves more than 19bn total views. Compare that to Spotify, with just over 100m active users worldwide, and Vevo's scale starts to sink in.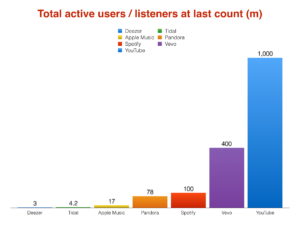 Chart via Music Business World
There is a ton of data to back up its claims. That said, there may be some issues around whether it can generate the expected revenues.
To put that into context, if every play on Vevo was monetized, its 19bn monthly views would generate $475m a month, or $5.7bn a year.
Sadly for Vevo and its record labels partner, these multi-billion-dollar tallies remain a fantasy. In reality, the company is believed to turn over somewhere around $500m each year, while posting annual losses.
The key reason for Vevo's financial shortfall is one of demand. Advertisers are currently only paying for pre-roll ads on a minority of Vevo's billions of plays.
You can review all the data and the arguments Music Business Worldwide.