Vinyl: Don't Get Too Excited, People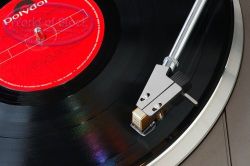 I, like many other people, have been caught up in the vinyl resurgence.  Just last week I forked out nearly forty bucks for a double gatefold sleeve of Daft Punk's Random Access Memories.  And yes, sales are up–in percentage terms, anyway.
But how big is the vinyl revolution?  Billboard says "it ain't all that."
The vinyl resurgence continues. Vinyl sales in the U.S. are up 33% through June 9th, according to Nielsen SoundScan, a blistering pace compared to the 15% gain through the same week in 2012 and the 18% gain in all of 2012.
In short, consumers are choosing vinyl in greater numbers. But if the industry could choose the most cost-effective and efficient physical format for its supply chain, it wouldn't be vinyl.
Vinyl has two main drawbacks: it's expensive and it's non-returnable. The high cost of vinyl results in lower margins and the dedication of more resources. Vinyl is plagued by delays because of the complexity of manufacturing. Shipping delays are frequent as a result. On a per-unit basis, manufacturing a vinyl LP can easily cost double or triple the cost of a CD. Vinyl is also heavy and not inexpensive to ship. Vinyl that is not packaged correctly can be damaged in transit.