"Vinyl Is Killing the MP3 Industry"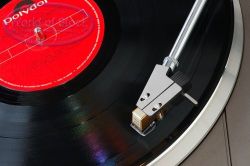 Well, no–but it's an interesting argument. Check out this article from the Montreal Gazette.
"Vinyl is killing the MP3 industry." And while that may be wishful, it holds a kernel of truth.
Because vinyl exists. Vinyl, indeed, is back. And at a time when all the horns on the Titanic are blaring "mayday" — when, for the first time in history, back catalogue outsold new product in the first half of 2012 — the persistence, the resurgence of vinyl is strange, amusing and perversely heartening news.
Vinyl? It turned up on Facebook, in that meme. It turned up in an interview with punk legend Jello Biafra last week. "Oh yeah," Jello said. "(Vinyl) is still the vast majority of what I listen to."
And it increasingly turns up in the hands of music lovers/consumers. This is ironic. (It really is — not in the Alanis Morissette mis-sense.) In 1991, the record industry kicked vinyl into an open grave and poured shovelfuls of innovation over it. They had a plan, for CDs to take over. And they did. Vinyl was dead.
But death was contagious.