The Vinyl Renaissance: Who's Responsible?
A very good question posed by The Atlantic.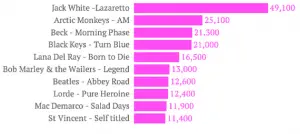 The equation facing the music business is now well understood: Sales of CDs and digital music downloads are in what looks like a death spiral, while streaming music services are adding subscribers and increasing revenues but not yet profits.
But another corner of the music business is experiencing rapid growth: old-fashioned vinyl records.
According to the latest numbers from Nielsen Soundscan's mid-year report, released last week, vinyl record sales in the U.S. were up more than 40% in the first six months of 2014, with 4 million units sold. In 2013, vinyl sales hit their highest level since at least 1991, with 6 million units sold. At the current pace, this year's sales are on track to beat that again quite easily.
See the whole article here.