Violin Strings Made Out of Spider Silk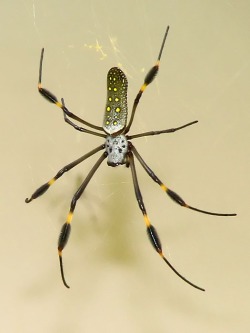 The Golden Orb spider – Nephila maculata – soon to be renown as a friend to violinists everywhere.Scientists are odd ducks. They often try to do something just to see if they can do it, not necessarily to obtain a result with any practical application. But such is the process of scientific inquiry. You never know when there's going to be some kind of unexpected eureka moment.
Which brings me to Shigeyoshi Osaki who works at Nara Medical University in Japan. He's been interested in the magical properties of spider web silk fo years. He's now figured out how to acquire large amounts of a certain type of silk and then somehow bind it together to create violin strings.
Why? Mostly as a way of showing that this silk can be used for applications that require a strength and certain physical properties. His spider silk strings weren't as strong as those made from gut but better than what's seen with aluminum-coated nylon strings. And they sound good, too.