Wait: There's an FM Chip in the Apple Watch?
You may have heard that a series of telcos in the US have agreed to turn on the FM chip inside mobile phones connected to their network, including iPhones.
That's right: your smartphone is capable of receiving over-the-air FM broadcasts. The receiving chips have been there all along but almost no manufacturer or wireless provider has elected to turn it on. (Get caught up here.)
Now there's this: word that the Apple Watch contains an FM chip, although it's been disabled.  This comes from Broadcast Blog:
Teardown analysis of the Apple Watch by ABI Research shows that—like most smartphones—the device includes a connectivity chip that incorporates WiFi, Bluetooth and FM radio capabilities. As in the iPhone, however, the FM capabilities of the connectivity chip are not implemented on the device.
Contrary to some early reports, the connectivity chip on the Apple Watch does not also include NFC (Near-Field Communication) capability. NFC connectivity on the Apple Watch is handled by a separate chip, as shown in the photo below. (Chipmaker Broadcom has released a single chip that does include WiFi, Bluetooth, FM and NFC, but this is not the model used in the current Apple Watch.)
Cool. This teardown view of the Apple Watch from ABI Research points to the Broadcom BCM43342 connectivity chip which contains an FM radio.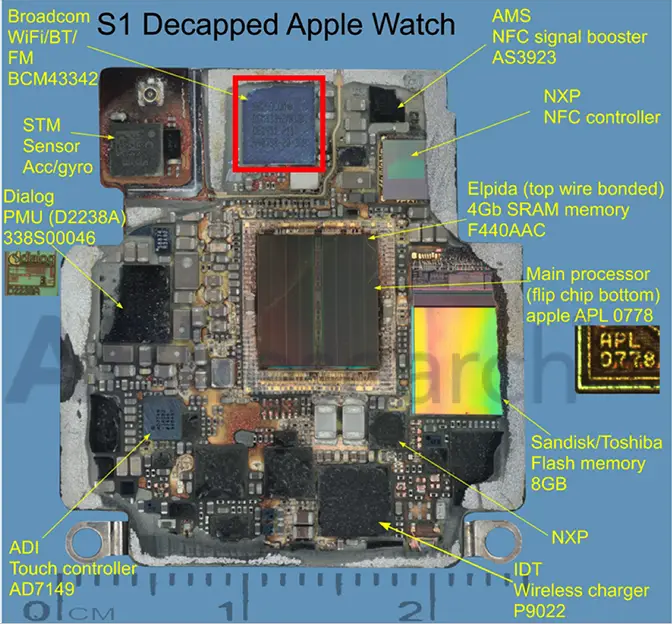 All right, but so what? What could it possible by used for and by whom? FM radio listening, certainly. But FM frequencies are also used by a variety of wireless headphones. Stay tuned–so to speak.