Want Some Awesome Insight into What People Are Listening To? Check Spotify's Charts
Spotify is more than just a streaming music service. It's also a data collection company. Using a division called The Echo Nest, Spotify is able to collect, analyze and report on what people are listening to and where they're listening to it. Think everyone listens to music the same way you do? A quick check of Spotify Charts will quickly disabuse you of that notion.  Click on the images to see what I mean.
This first chart is for songs going viral in Canada this week.
This is the current global chart.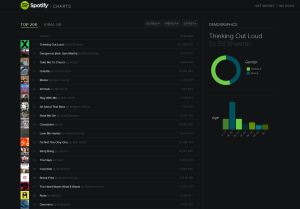 Once you're done with that, take a look at how the Spotify/Uber partnership is working out. This is what people around the world are listening to while taking their rides in Uber vehicles.