Want to See How Well Your Favourite Artist is Doing Around the World? Behold Soundcharts.
As the primary metric for musical success, sales figures are dead, a relic of another era. With more people choosing access to music rather than the hassles and costs of possession, who cares how much a song/album has sold?
Sure, sales revenue still matters, but nowhere near as much as it used to. You also have to be concerned about radio airplay (still VERY powerful), YouTube, social media engagement, sharing, streaming and a host of other things. Shouldn't there be one place where you could check on all these things?
I know of several companies working on creating some kind of unified dashboard, but they'll probably be proprietary and available only to those who subscribe. Then there's Soundcharts, a French company, which (for the moment, anyway) is free to anyone who wants to sign up.
After a painless registration process, you're brought to this screen.
Let's pick an up-and-coming band. I've chosen Toronto's PUP. Let's enter their name in the search field and press enter.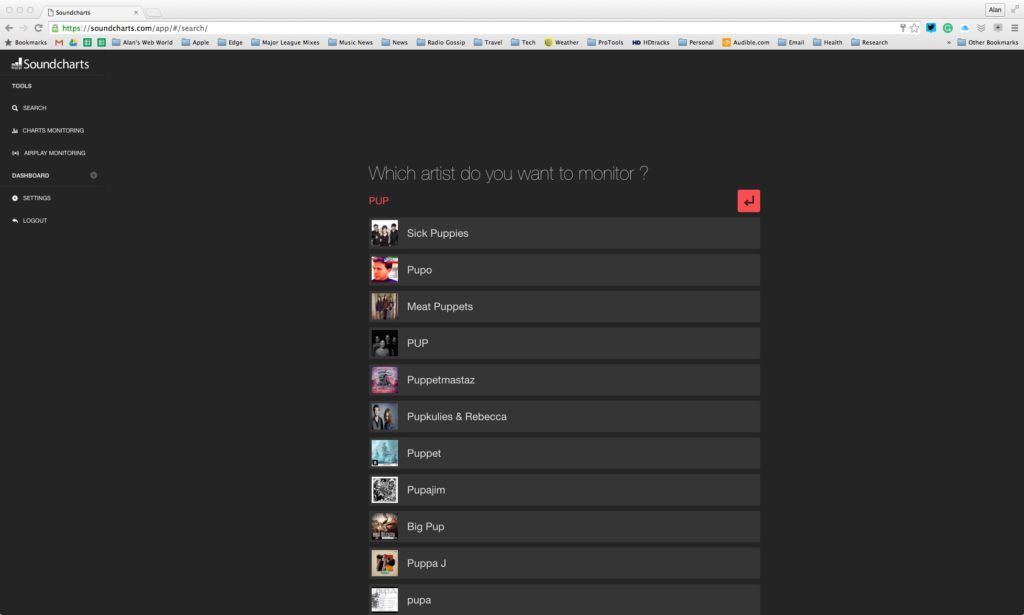 Selecting PUP, you're brought to this screen.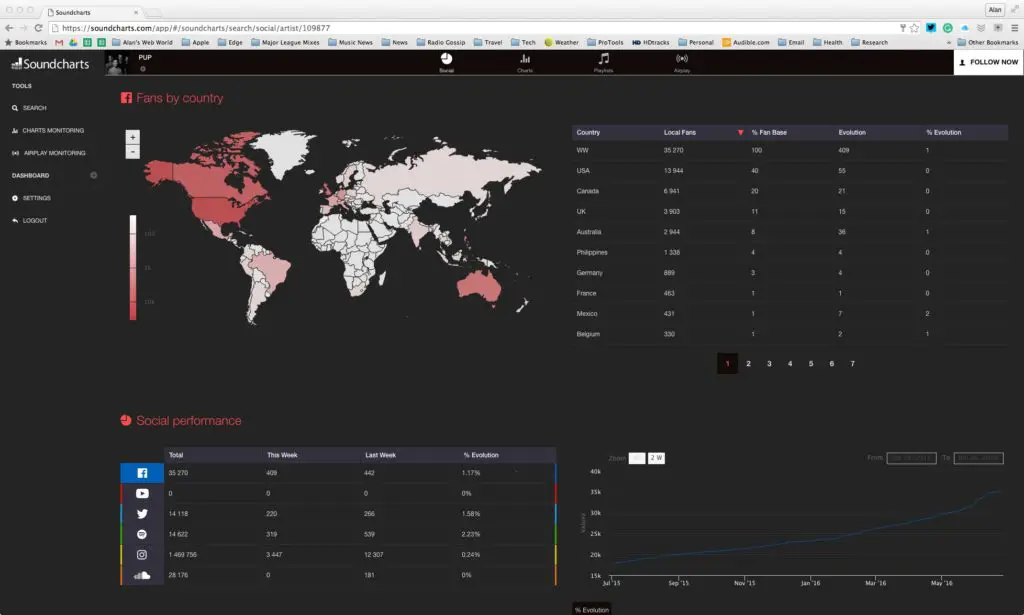 In case you can't see, this dashboard shows how many fans PUP has in countries around the world (the darker the colour, the more fans). On the lower left is a charge that tracks Facebook performance, Twitter engagement, Spotify streams, Instagram shares and SoundCloud listens. To the right is a graph that shows the band's social media growth. (Note that because Soundcharts is a French company, the default tracking is what's happening in France. And, yes, you can change your search to any number of countries by hitting "Chart Monitoring" on the nav list on the left-hand side of the page. Unfortunately, Canada, the sixth largest music market in the world, is not listed. But Peru is?WTF?)
Click on "charts" at the top takes us to a summary of how the band's current album, The Dream is Over, has formed on charts around the world. In this case, the album has reached #103 on the French charts.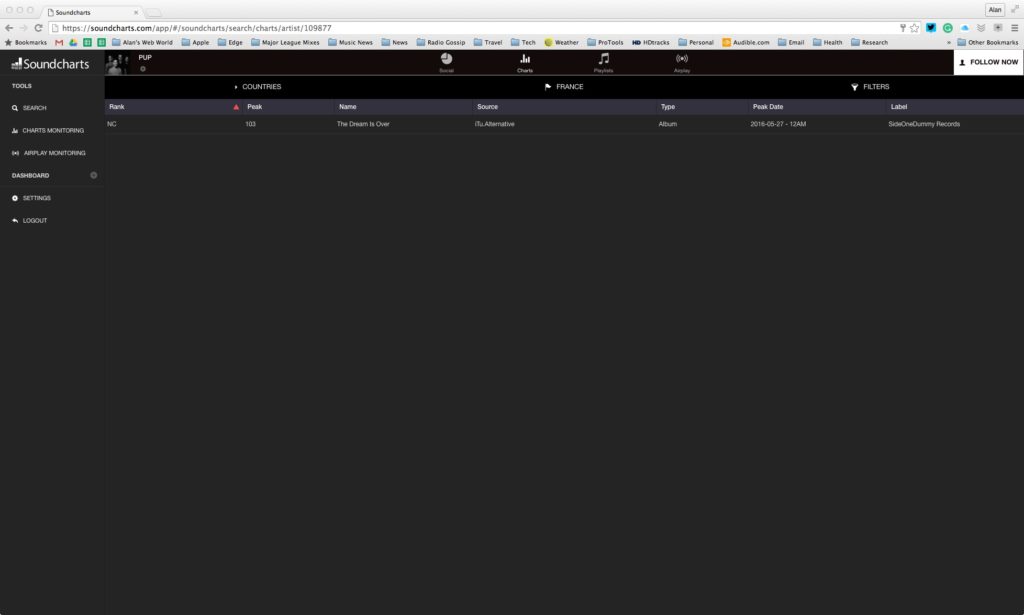 Moving along that top nav bar to the right, a click on "playlists" will bring up all the playlists which feature PUP material. Clicking on any playlist will show how that collection of songs is performing.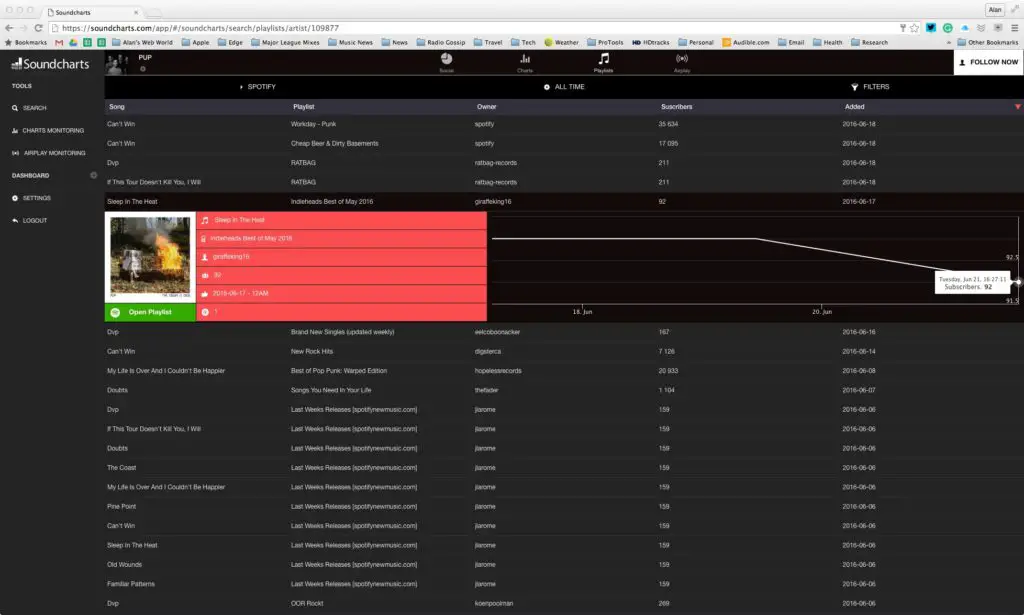 Finally, a clip on "Airplay" will show which French radio stations have played PUP material. Again, you can adjust in what countries you want to follow by clicking on "Airplay Monitoring" on the left-hand side. (Again, don't look for Canada. Apparently, we don't rate.)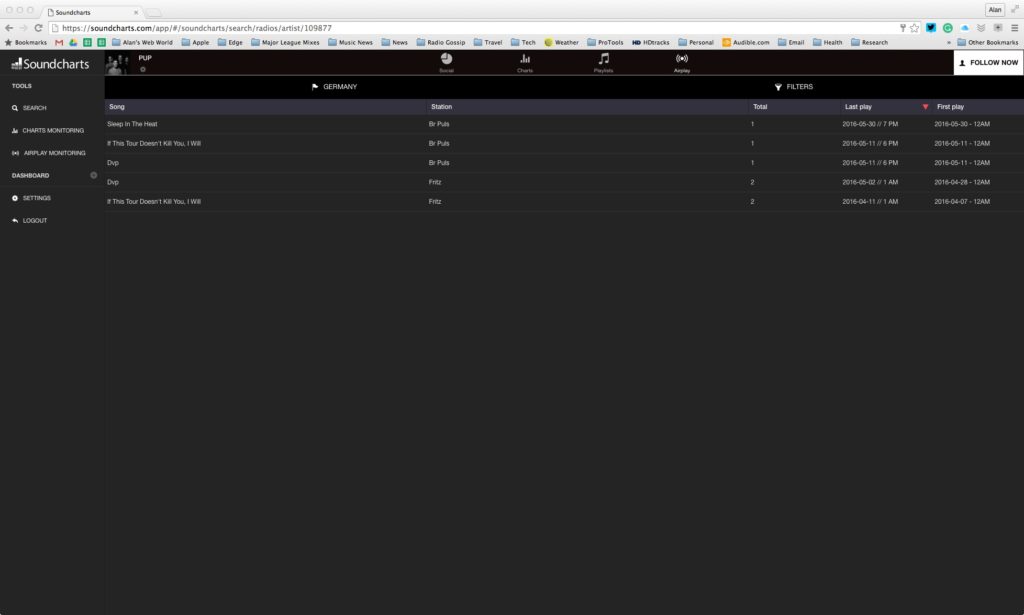 Finally, clicking "Favourites" on the left side will allow you to store the names of any artist you'd like to track on a continuing basis. I mean, who doesn't love gaining intelligence on music?
Cool idea, no? And that fact that it's free to anyone can help you follow your favourite artist on their way to world domination. Maybe Soundcharts will use some of its new seed money to add Canada to their data.