Want: This Metal Band's Donald Trump T-Shirt
When Donald Trump announced that he was running for president, I was giddy. "This is gonna be sooooo funny!" I thought. But the longer the GOP nomination race goes on, the better The Donald seems to do. "President Donald Trump" could be the scariest three words in the English language right now.
If there's a bright side to all this, it's that a high-profile right-wing US politician is great for rock. It's a bit of a sweeping generality, but the best and most exciting rock is made when there's an angry Republican in the White House. The protest music, hard rock and foundations of punk flowed from the Nixon era. Amazing music–post-punk, hardcore, rave, Madchester, etc.–resulted from when Reagan ran the US and Maggie Thatcher ruled the UK. George H.W. Bush was in charge when grunge broke through. And indie rock went into its steep ascent when Bush 43 was in charge. So while I don't want to see a President Trump, I'm okay with him riling up people during the election campaign.
Which brings me to Municipal Waste, a thrash band from Richmond, Virginia. I just bought one of these t-shirts. (Get yours here for $20 USD)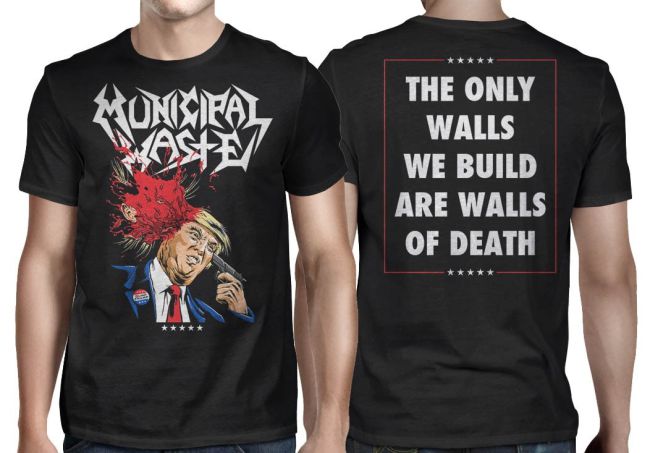 Here's a quote from frontman Tony Foresta at Noisey:
It's kind of crazy. We're making so much money off of it that we might actually turn into Republicans! Okay, not really, but it's selling pretty good. A lot of people don't like that guy. I've been reading some of the comments from people that are "shocked" that we would say something bad about Trump. We talked about killing George Bush on our first freaking album!…I know 80 percent of our Waste songs are about drinking and all, but I swear, there's some content in there, dammit!
Nice work, guys, but don't be too surprised if some guys in sunglasses and ear pieces pay a visit to your rehearsal space. After all, you did write a song called "I Wanna Kill the President."