Want to buy some of Kurt Cobain's DNA? Here's your chance.
Let's say that you got lucky investing in crypto and suddenly have all kinds of money to spend. What to buy? Another supercar? More boats? A vacation home in Bali? No, you might want some of Kurt Cobain's DNA.
Iconic Auctions is holding The Amazing Music Auction which not includes some cool stuff from The Beatles, Dylan, Alice in Chains, and more, but also six strands of Kurt Cobain's hair.
The locks, 2.5″ long and presented on an 8.5 x 11 sheet, were clipped in October 1989 in Birmingham, England, while Nirvana was promoting the Bleach album. The clippings were transferred from his friend Tessa Osbourne who then gave them to Nicole DePolo, a Seattle artist. And yes, there are some documents proving the hair's authenticity.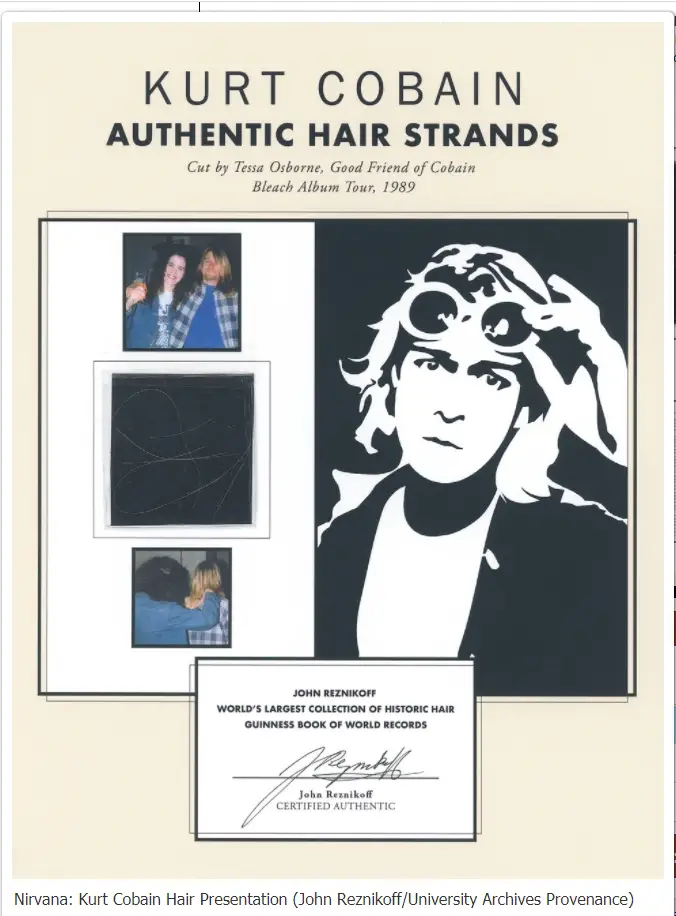 This isn't the first time some of Kurt's hair has been up for sale. In the first instance, the auction house decided that this was just too weird and didn't go through with it. This is a bit odd when you think of it because locks of John Lennon's hair have been sold multiple times without much incident.
When I looked this morning, the minimum bid was set at US$2,500 with ZERO bids so far.
Attention, mad scientists: Here's your chance to clone Kurt.
(Via Spin)