We Lose Another Music Magazine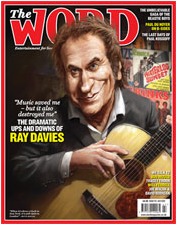 Like I do every month, I spent another forty dollars on British music magazines yesterday. The new Q was out yet, but I did find new issues of Mojo, Record Collector and Uncut. I didn't see The Word on the stand. Maybe later.
Or maybe not. The Word, one of the more erudite of the British mags, is finished. One more issue in August and that's it.
I often wonder how the UK can support so many high-quality monthly music magazines. This truth is they can't. Circulation for virtually every paid publication has been steadily slipping for the last several years.
Blame the Internet. The magazine industry is trying desperately to reinvent itself for the age of tablets. Meanwhile, readship keeps falling.
Frankly, I'd rather have all my magazines on a table. The multimedia possibilities are staggering. And my basement (with decades of saved magazines) would become less of a fire hazard.
Still, there's something to be said for sitting on the couch with a nice glossy magazine. I wonder how long that will last?