We were told the Nirvana vault was empty and that there was no more music to be heard. Apparently not. Look at this.
[For years, we were told that everything Kurt and Nirvana had ever done has been released. That turns out not to be the case. I guess they weren"t talking about stuff like this. Another report from Elisa F.G. – AC]
"Who do you think of when I say "grunge music"? I asked assuming (like many) that I could stump the AI app in my phone. I confidently thought to myself that there was no way a bot would answer with…
"When the words 'grunge music' echo through the air, a certain Seattle-based band immediately springs to mind – none other than the iconic Nirvana" the app responded.
Well I'll be damned. Bots got taste!
If you haven't heard, Nirvana's third and final album In Utero is being re-released October 27, 2023, in honour of its 30th anniversary and among the 12 raw emotional tunes fans have played on repeat since it's inception, 53 previously unreleased tracks are being included in this massive vinyl re-release, listing 72 tracks in total.
Stacked with bonus's as is, fans are also getting restored material from the original soundboard tapes from Nirvanas live shows engineered by grunge movement veteran Jack Endino. Live performances from their 1993 concert in L.A. as well as the bands 1994 Seattle set, are among the expanded track list.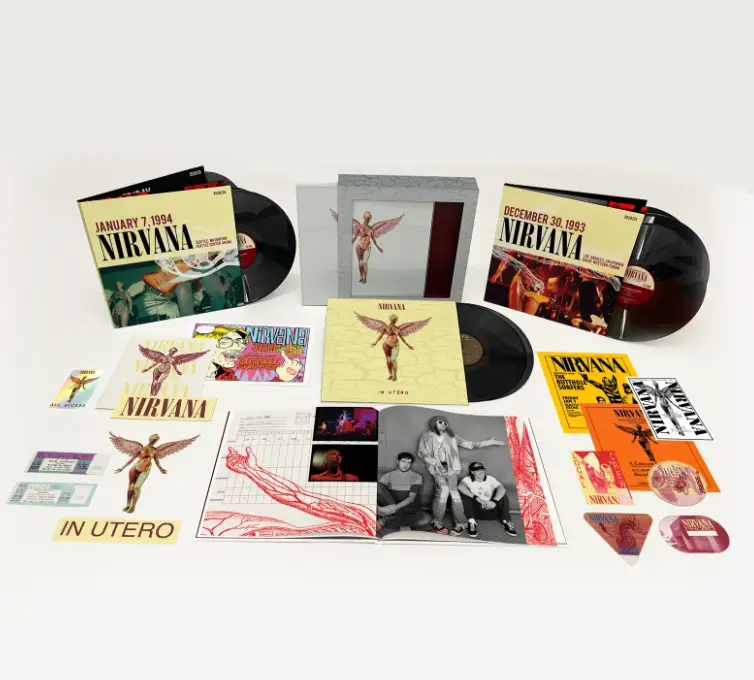 Originally released September 21st 1993 and re-released ten years ago for the albums 20th anniversary, In Utero's latest reissue comes in a few physical variations – a limited-edition 5xCD Super Deluxe box set, an 8xLP Super Deluxe box set, a 2xCD Deluxe Edition, a 1xLP Vinyl Edition and a Digital Super Deluxe edition.
Identical tracks and audio, all formats seem to only differ in packaging and bonus's. The CD and Vinyl Super Deluxe sets both come with a removable acrylic front-cover, a 48-page book as well as unreleased photos, a fanzine, a tour poster lithograph, replicas, gig fliers, ticket stubs and the highly coveted (faux) Backstage Passes. If you're already sold, pre-orders are available with the price tags ranging from $19.98 up to $324.98 for the chunkier editions, with the option to pay in instalments, phew!
As if the anticipation of the albums reissue isn't painful enough… here's your track listing!
8LP Super Deluxe
LP 1 – In Utero – Original Album Remastered
Side 1
Serve The Servants
Scentless Apprentice
Heart-Shaped Box
Rape Me
Frances Farmer Will Have Her Revenge on Seattle
Dumb
Side 2
Very Ape
Milk it
Pennyroyal Tea
Radio Friendly Unit Shifter
tourette's
All Apologies
LP 2
Side 1 Bonus Tracks and B – Sides Remastered
Gallons of Tubing Alcohol Flow Through The Drip
Marigold
Sappy
Moist Vagina
I Hate Myself And Was To Die
Side 2: Bonus Live 1993/1994
Serve The Servants (Live in Rome)*
Scentless Apprentice (Live in Rome)*
Heart-Shaped Box (Live in Rome)*
Very Ape (Live in Rome)*
Milk It (Live in Springfield)*
tourette's (Live in New York)*
LP 3 – Live in Los Angeles – Great Western Forum – December 30th 1993
Side 1
Radio Friendly Unit Shifter*
Drain You*
Breed*
Serve the Servants*
Side 2
Come As You Are*
Smells Like Teen Spirit*
Silver*
Dumb*
LP 4: Live in Los Angeles -Great Western Forum – December 30th 1993
Side 3
In Bloom*
About A Girl*
Lithium*
Pennyroyal Tea*
Side 4
School*
Polly*
Frances Farmer Will Have Her Revenge On  Seattle*
Rape Me*
Territorial Pissings*
LP 5: Live in Los Angeles
Side 5
Jesus Doesn't Want Me For A Sunbeam*
The Man Who Sold The World*
All Apologies*
On A Plain*
Side 6
Heart- Shaped Box*
Blew*
Feedback Jam*
LP 6: Live in Seattle – Seattle Center Arena – January 7, 1994
Side 1
1. Radio Friendly Unit Shifter *
2. Drain You *
3. Breed *
4. Serve The Servants *
Side 2
01. Come As You Are *
02. Smells Like Teen Spirit *
03. Sliver *
04. Dumb *
LP: 7 Live in Seattle – Seattle Center Arena – January 7, 1994
Side 3
1. In Bloom *
2. About A Girl *
3. Lithium *
4. Pennyroyal Tea *
Side 4
1. School *
2. Polly *
3. Frances Farmer Will Have Her Revenge On Seattle *
4. Milk It
5. Rape Me *
LP 8: Live in Seattle – Seattle Center Arena – January 7, 1994
Side 5
1. Territorial Pissings *
2. Jesus Doesn't Want Me For A Sunbeam *
3. The Man Who Sold The World *
4. All Apologies *
Side 6
1. On A Plain *
2. Scentless Apprentice *
3. Heart-Shaped Box *
4. Blew *
5CD Super Deluxe
CD 1: Original Album Remastered
Serve The Servants
Scentless Apprentice
Heart-Shaped Box
Rape Me
Frances Farmer Will Have Her Revenge On Seattle
Dumb
Very Ape
Milk It
Pennyroyal Tea
Radio Friendly Unit Shifter
tourette's
All Apologies
Bonus Tracks & B-Sides (Remastered)
1. Gallons Of Rubbing Alcohol Flow Through The Strip
2. Marigold
3. Sappy
4. Moist Vagina
5. I Hate Myself And Want To Die
CD 2: Live in Los Angeles – Great Western Forum – December 30, 1993
Radio Friendly Unit Shifter *
Drain You*
Breed*
Serve The Servants*
Come As You Are*
Smells Like Teen Spirit*
Silver*
Dumb*
In Bloom*
About A Girl*
Lithium*
Pennyroyal Tea*
CD 3: Live in Los Angeles – Great Western Forum – December 30, 1993
School*
Polly*
Frances Farmer Will Have Her Revenge On Seattle*
Rape Me*
Territorial Pissings*
Jesus Doesn't Want Me For A Sunbeam*
The Man Who Sold The World*
All Apologies*
On A Plain*
Heart_Shaped Box*
Blew*
Feedback Jam*
CD 4: Live in Seattle – Seattle Center Arena – January 7th 1994
Radio Friendly Unit Shifter*
Drain You*
Breed*
Serve The Servants*
Come As You Are*
Smells Like Teen Spirit*
Sliver*
Dumb*
In Bloom*
About A Girl*
Lithium*
Pennyroyal Tea*
CD 5: Live in Seattle – Seattle Center Arena – January 7th 1994
School*
Polly*
Frances Farmer Will Haver Her Revenge On Seattle*
Milk It
Rape Me*
Territorial Pissings*
Jesus Doesn't Want Me For A Sunbeam*
The Man Who Sold The World*
All Apologies*
On A Plain*
Scentless Apprentice*
Heart-Shaped Box*
Blew*
Bonus Live 1993/1994
Serve The Servants (Live in Rome)*
Scentless Apprentice (Live in Rome)*
Heart-Shaped Box (Live in Rome)*
Very Ape (Live in Rome)*
Milk It (Live in Springfield)*
tourette's (Live in New York)*
2CD Deluxe
CD 1 Original Album Remastered
Serve The Servants
Scentless Apprentice
Heart-Shaped Box
Rape Me
Frances Farmer Will Have Her Revenge On Seattle
Dumb
Very Ape
Milk It
Pennyroyal Tea
Radio Friendly Unit Shifter
Tourette's
All Apologies
CD 2: Live 1993/1994
Serve The Servants (Live in Rome)*
Scentless Apprentice (Live in Rome)*
Heart-Shaped Box (Live in Rome)*
Rape Me (Live in Seattle)*
Frances Farmer Will Have Her Revenge On Seattle (Live in Seattle)*
Dumb (Live in Los Angeles)*
Very Ape (Live in Rome)*
Milk It (Live in Springfield)*
Pennyroyal Tea (Live in Los Angeles)*
Radio Friendly Unit Shifter (Live in Los Angeles)*
tourette's (Live in New York)*
All Apologies (Live in Los Angeles)*
Jesus Doesn't Want Me For A Sunbeam (Live in Seattle)*
The Man Who Sold The World (Live in Seattle)*
Vinyl LP + 10-inch
LP1: Original Album Remastered
Side A
Serve The Servants
Scentless Apprentice
Heart-Shaped Box
Rape Me
Frances Farmer Will Have Her Revenge On Seattle
Dumb
Side B
Very Ape
Milk It
Pennyroyal Tea
Radio Friendly Unit Shifter
Tourette's
All Apologies
10-inch Single
Side A
Gallons of Rubbing Alcohol Flow Through The Strip
Marigold
Side B
Sappy
Moist Vagina
I Hate Myself And Want To Die