Wearing Headphones While You Drive Not As Illegal As You Might Think
One of the scariest (not to mention dumbest) thing I've ever seen was a knobhead cyclist weaving in and out of rush hour traffic in downtown Toronto wearing ear buds, oblivious to horns, screeching tires, squealing breaks and the sirens of emergency vehicles.
"Jeezus, you moron," I thought, "Do you have a death wish?"
Then there are all the times I see people behind the wheel with headphones on. Yes, listening to a loud stereo gives you the same effect, but at least you have a better chance of hearing something that might save your life–or the life of someone else.
So how illegal is it to listen to music on ear buds/headphones? Not as illegal as you might think, apparently. I stumbled across this map of the US. (Click the image for more.)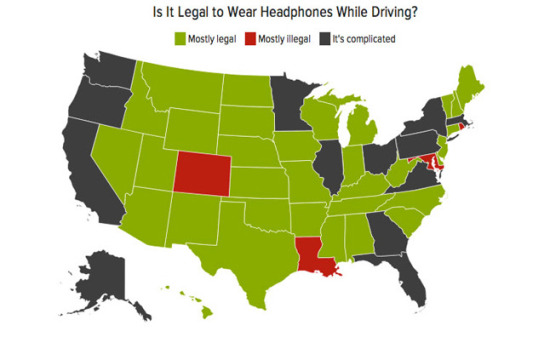 I took a quick look at the Ontario Highway Traffic Act and couldn't see anything on the subject. Anyone have time to dig deeper or to shed some light on the (il)legality of wearing headphones while driving or cycling in Canada?