Wednesday Music News: Late Edition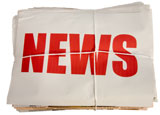 Here's what you'll be reading about tomorrow.
Despite all the hype and media coverage, Jeff Bridges's album sold just over 13,000 copies in its first week in the stores.  I don't which is sadder:  that sales figure or the fact that number was good enough for the album to debut at #25 on the Billboard Top 200 charts.
The B-52s will release a live album called With the Wild Crowd, which was recorded in their hometown of Athens, Georgia.  The release date is October 11.
This is getting annoying.  Are 30 Seconds to Mars breaking up or not?  Jared Leto keeps leaving vague hints.  Get on with it.
Never, ever piss off a Michael Jackson fan club.  Piss off thirty-five of them and you're in deep sh*t.
The Sheepdogs land on the cover of Rolling Stone.  The result?  About 2,000 Facebook "Likes."  I think that says more about the relevance of Rolling Stone than it does about the Sheepdogs.
Not music related, but this reminds me of Snatch, one of my favourite movies of all time.
In a band?  Need to promote yourself?  Try this new Facebook tool.