Weezer will debut a new song tonight on The Simpsons
The latest band to turn yellow for The Simpsons is Weezer. Tonight's episode, "The Hateful Eight Year-Olds" will feature the band as a cover band called Sailor's Delight who play songs by, er, Weezer.
In addition to performing songs from Weezer's black album and Pacific Daydream, they will debut a new song called "Blue Dream." That track is on the upcoming album Van Weezer, which was supposed to have been released Friday but has been delayed indefinitely because of the coronavirus.
Damn. That would have been a first. Release an album on Friday and appear playing a song on The Simpsons on Sunday.
Last week, Weezer released a song called "Hero," which they dedicated to frontline medical works. They also sent over some deli meals to a hospital in LA. Here's the letter that went with the order.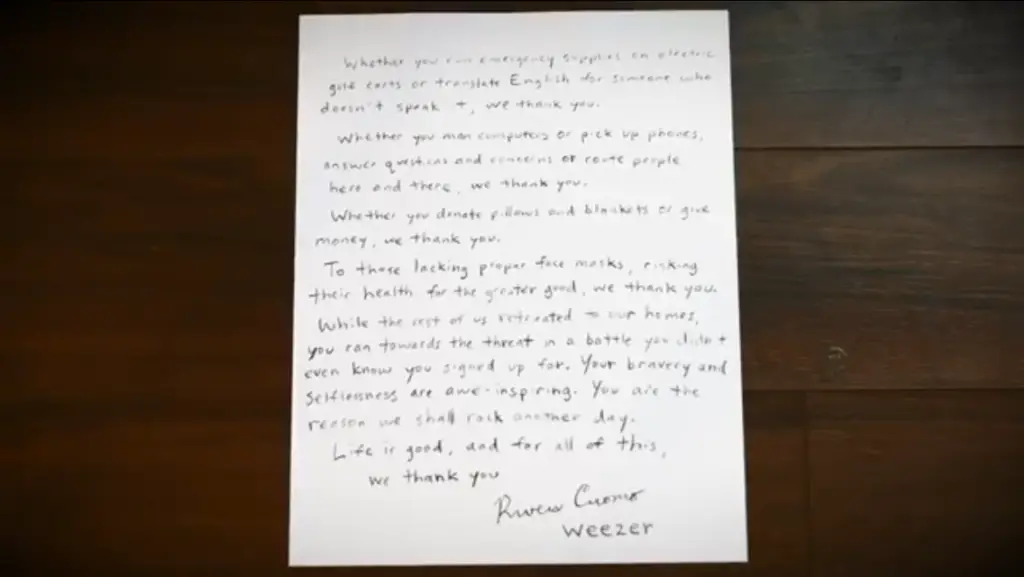 It reads:
"Whether you run emergency supplies on an electric golf cart or translate English for someone who doesn't speak it, we thank you.
"Whether you man computers or pick up phones, answer questions and concerns or route people here and there, we thank you.
"Whether you donate pillows and blankets or give money, we thank you.
"To those lacking proper face masks, risking their health for the greater good, we thank you.
"While the rest of us retreated to our homes, you ran towards the threat in a battle you didn't even know you signed up for. Your bravery and selflessness are awe-inspiring. You are the reason we shall rock another day.
"Life is good, and for all of this, we thank you.
"Rivers Cuomo, Weezer"