Weird CD Alert: Music from Instruments Made Completely of Ice.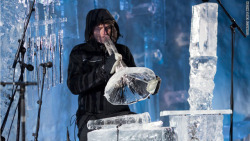 One of the strangest CDs I have in the library is Ice Concerts by Terje Isungest, a hardy dude from Norway who specializes in playing musical instruments made entirely of ice. His ensemble–which can only be played at -30 C or less–includes horns, guitars, marimbas, harps, trumpets and even an ice didgeridoo.
The challenge–apart from the cold–is that Isunget never knows how long an instrument will last. An ice trumpet made be useless after just one song.
The man is clearly driven by…something. Good on him, I guess.