Weirdest. Musical Instrument. Ever.
Athanasius Kircher was a 17th century Jesuit priest who spent too much time thinking about weird things. One of his great musical inventions was the Cat Piano.
Kircher gathered (allegedly, anyway) a group of live cats which he then arranged according to "tonal magnitude," threading their tails through to a piano-like keyboard. When a key was depressed, a hammer with a sharp point would strike an individual cat's tail, causing it to howl. This was how the instrument made music.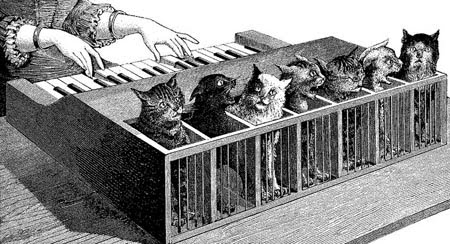 A new book on Kircher entitled A Man of Misconceptions has just been published by John Glassie. Read more about it here.
That makes this Monty Python skit a little less crazy, doesn't it?