What a Surprise: A U2 360 Book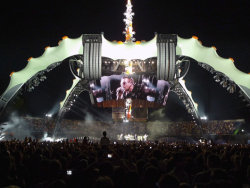 You don't spend two years on the road grossing three-quarters of a billion dollars with the most ambitious rock spectacle ever without planning to document it along the way.
Dylan Jones, an editor with GQ, had an all-access pass to the entire tour. He took copious notes, lots of photographs and interviewed dozens of people. Now all he has to do is write the damn thing.
If sorting through all this sounds like a Claw-sized undertaking, it is. That's why U2 360: The Official Story of the Greatest Spectacle in Stadium-Rock History won't be out until October 2012.
Meanwhile, if you haven't already, you should check out Bill Flanaghan's excellent account of the making of Achung Baby and the Zoo-TV tour called U2: At the End of the World. Let's hope that Jones can write something even half as good.