What are the highest-earning one-hit-wonders?
Many music fans have a thing about one-hit-wonders, artists who burn bright for exactly one song and then fall into obscurity. More often than not, they continue to release music, but no one cares. But if that one hit is big enough, that could sustain its author for the rest of their life.
Another survey (which is really an ad for a British site called Broadbandchoices.co.uk) dove into Spotify data to determine the highest-earning one-hit-wonders on the platform.
Biggest One-Hit Wonders
by
broadbandchoices
But what about time before Spotify? They've calculated that, too. This is how much these artists could have earned each year since they had their big hit.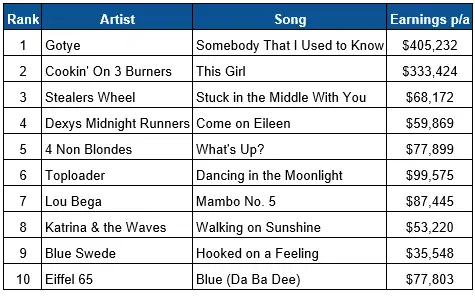 Here's a playlist so they can earn a few more pennies.