What do you make of the line-up for this year's Lollapalooza? I vote both "meh" and "WTF."
Lollapalooza's roots are in alt-rock culture. Other festivals (read: Coachella) might morph into an event that serves the needs of the hip-hop nation, but we could always depend on Lollapalooza to fly the flag for us alt-rock/indie-rock weirdos.
In at its height in the 90s, Lollapalooza delivered us Rage Against the Machine, Tool, Beastie Boys, The Ramones, Smashing Pumpkins, Pearl Jam, Soundgarden, Chili Peppers, Metallica (okay, that was weird), Ministry, Stone Temple Pilots, Jesus and Mary Chain and so many others. If there was one thing we could depend on, it was that Lollapalooza would serve the needs of Gen X alt-rockers and help to set the musical agenda for the next year.
But that was then and this is now.
The official poster for Lollapalooza 2019 has been released. Is it just me or this lineup both unbelievably underwhelming and light on the alt-rock?
Have things devolved so much that organizers feel they can get away with having Ariana Grande as a headliner? Jeezus.
And look at the small font acts. How many of them have you actually heard of? Be honest. How many names do you genuinely recognize? Can you name a song or album from most of them? I thought not.
Compare the 2019 lineup to last year.
Hmm. Now that I see it, last year's lineup was kinda, you know, poppy./hip-hop-y, too. What about 2017?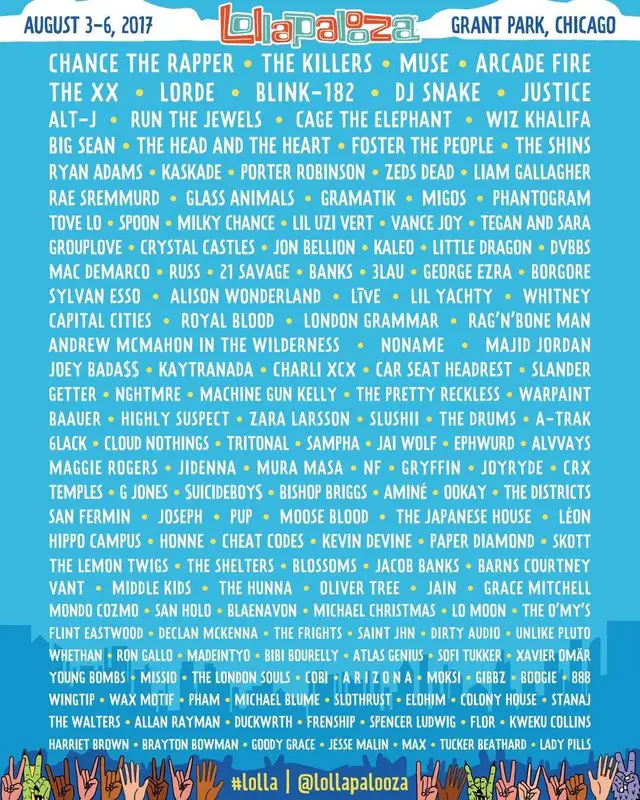 More alt-rock and indie, but the evolution is evident. Okay, one more. Here's 2016.
Wow, huh? Times have changed–and in only a few short years, too.
Just like Coachella, Lollapalooza's organizers know where youth culture is headed–and it's not in an alt-rock direction.