What Does It Mean to be "Punk" Today?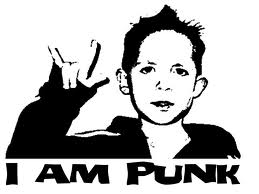 That's a very loaded question that results in some very complicated answers. Nevertheless, NY Mag waded in.
Punk rock has always had an easy time living up to E. M. Forster's view of music as a kingdom that "will accept those whom breeding and intellect and culture have alike rejected." The Metropolitan Museum of Art's Costume Institute benefit—the "Oscars of fashion," currently co-hosted by Vogue editor Anna Wintour, and perhaps the city's most glamorous large social event—feels like the opposite: a celebration of rare finery and a discerning elite. The gala's theme is generally the same as that of the Costume Institute's spring exhibit; say, Jacqueline Kennedy or Chanel. But this year's exhibit is "Punk: Chaos to ­Couture," a look at punk clothing and high fashion's varied responses to it. A lavish ball pivots on the same word you'd use to describe crusty squatters in ­Tompkins Square Park.
One knee-jerk response to this situation is to see it as a laughable irony, like a steakhouse celebrating how brave and inspiring vegetarians are. I know: It's tempting. Even a glancing understanding of what "punk" is tends to assume vigorous antipathy toward fashion-industry galas. And it is somehow amusing to imagine socialites commissioning extravagant couture inspired by gangs of raggedy late-seventies miscreants, or Girls actress Allison Williams studying photos of the Sex Pistols and, as she said, getting "really excited to commit to that theme."
In 1976, the year the Ramones released their first LP and cemented the "teenage dirtbag" look that's persevered through decades of rock culture—before the reek of the CBGB bathroom became one of music's most famous odors—Diana Vreeland was presiding over a Costume Institute fantasia titled "The Glory of Russian Costume," for which the air was pumped through with ten gallons of ­Chanel Cuir de Russie perfume. And yes, the whole endeavor comes surrounded with some of the iffy double-talk that arises when cultural institutions celebrate old bits of radical thinking.
Exhibit curator Andrew Bolton talks about subverting the mainstream, and of today's fashion world lacking the energy and freedom of punk—but doesn't punk's example suggest that this doesn't matter? That the fashion world is easily topped, freedom-and-energy-wise, by random glue-­sniffers? If one of punk's lessons is that people can create their own culture, instead of waiting for it to be dictated from on high, what can elite culture-industry folk learn from that, besides modesty?
It's a long read, but it's worth it.