What is going on at the Rapids Theater? Nothing good, it seems
As of last Wednesday, May 19, private venue owners in New York State are no longer required to insist that patrons wear masks. 
This COVID-19 protection was lifted just as many bars and restaurants were granted the green light to stay open longer, eliminate some social distancing restrictions and as people started to get really excited for a summer ahead in which they could actually go and do things — including go to shows. 
Over the weekend, it seems one Niagara Falls venue that has been home to countless shows from Canadian artists — I've personally seen The Headstones there, along with USS, Our Lady Peace, Billy Talent, City and Colour, Steven Page and others, most of them multiple times — decided to take a much more open-arms approach than other venues. 
While the state leadership is encouraging venue owners to require people to be vaccinated before enjoying the relaxing of regulations, rewarding them for getting the shot to help protect the public health, some are seeing the change as a big old free-for-all and seemingly want to forget we're still in a pandemic. 
In a series of Facebook posts, The Rapids Theater* repeatedly uses the phrase "N— papers" in reference to either vaccination cards or New York State's Excelsior Pass, a digital record that confirms a person is vaccinated against COVID-19. There are a handful of posts, all variations on that exact theme, boasting "freedom" and welcoming anyone who isn't "scared" to join them for their upcoming shows. 
Now for the asterisk: As of May 21, the page that says it's the REAL Rapid Theater's Facebook profile and the other, with the name listed as Rapids Theatre of Niagara, was a fake.  
A search Monday afternoon for "Rapids Theatre of Niagara" turned up a page that claims to be satire.

Note that the name on the second page here, The Rapids TheatRE, is different from the one above, the Rapids TheatER, but it was the first page that has the ridiculous comment.
That comment appears to back up this one, pointing fingers to disgruntled workers at a different venue.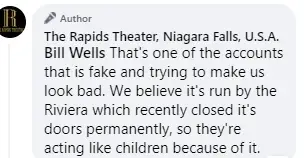 In the name of fairness, I did reach out to the Rapids Theater — not through Facebook because that might be reaching the wrong page (cough) but through their website. I said I wanted to write a fair and factual piece about this incident. As of the time of this writing, no response has been provided. So if you're out there reading this, you have my email and my phone. Let's talk. 
If, as a concert goer, you were happy with the allegedly fake Rapids TheatRE's account, urging anyone and everyone to come by, regardless of vaccination status, it's your choice whether you'll patronize the venue knowing now that those were not the comments of management.
If, as a concert goer, you were unhappy at the language used and the seeming disregard for the health and safety of others around you, it's your choice whether you'll accept management's word that this was all a hoax.
Bottom line: As Devo says, just use your freedom of choice.