What Radio Needs to Do in the Age of Mobile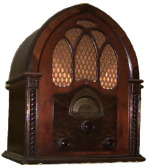 It can be summed up this way:  Don't build a Walkman.  From Fred Jacobs' blog:
[L]ast week, when no fewer than four colleagues in radio sent me the "Mobile Insider" blog by Steve Smith called "The Age of the Branded Action," I got the message. After reading the post, I understand why it kept ending up in my inbox and in my Twitter feed.
Smith hits on the killer app of apps in this passage that caught my attention and will hopefully resonate with you:
"This notion of empowering people to take action on the world, to express themselves in this world, is going to be enormously powerful. The brands that get that about mobile devices are the ones that will move us beyond the simple-minded "mobile-as-next-Internet" thinking. The transformation here is not just toward personalized media but actionable media. It is not just connectivity back to the Internet, but connectivity among devices in the world in real-time."
So the bar is raised. Radio stations need to do more than build a Walkman that simply plays its audio.
The rest of the blog is worth a look.  Do it now, radio people.