What Syrian Thug Bashar al-Assad Listens to as He Slaughters His Own People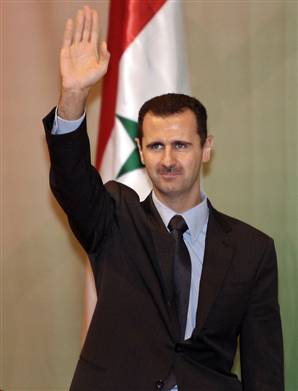 A cache of emails between Syrian dictator Bashar al-Assad was recently dumped in the lap of The Guardian. Amongst the correspodence with buddies in Iran on how to effectively repress dissent by killing citizens was information about the kind of music he listens to on his iPad. He's apparently quite the iTunes customer.
Here's his playlist for when he's ordering the slaughter of his own people:
"Don't Talk, Just Kiss," Right Said Fred
"Bizarre Love Triangle," New Order
"Look at Me Now," Chris Brown (as if he needs more bad publicity)
"Hurt," Leona Lewis
"Sexy and I Know It," LMFAO
"Can't Go Wrong," The Cover Girls
I guess we shouldn't be too surprised. After all, Saddam Hussein was big into both Whitney Houston and the B52s.