What the Hell is This Terrence Malick Rock'n'Roll Film?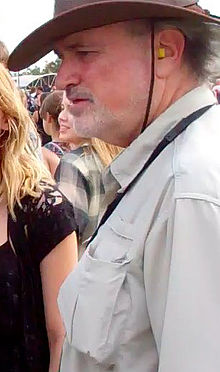 A couple of years ago, I was speaking with Ian Astbury of the Cult when he casually dropped director Terrance Malick's name.
"I shot a scene for the new Malick film the other day," he said, "and–"
"Wait," I injected.  "Malick? As in Terrance Malick?  Tree of Life?  The Thin Red Line? Days of Heaven? The guy who has become a legend on the basis of directing just six films in forty years?"
"That's him," Ian smiled, "and this one is all about rock'n'roll."
Malick, in fact, is shooting two films either back-to-back or simultaneously, depending on the source.  One is called Knight of Cups (for now, anyway) and the other still doesn't have a title–and don't ask me which is the music film.  
All we know is that plenty of footage has been shot around Austin, Texas, and in addition to Astbury, participants (allgedly) include Arcade Fire, Patti Smith, Lykke Li, Fleet Foxes, Black Lips, Natalie Portman, Rooney Mara (The Girl with the Dragon Tattoo), Ryan Gosling and Christian Bale.  The latest rumours have Robert Plant and Johnny Lydon in the cast.
IMDB has this description:  "Two intersecting love triangles. Obsession and betrayal set against the music scene in Austin, Texas."
WTF?