What Was Music Like the Last Time The Blue Jays Faced Kansas City in the Playoffs?
It's been a long time since the Blue Jays faced Kansas City in the American League Championship Series, a series the Blues would lose in seven games. Running between October 8 and October 16, 1985, The Jays took the first two games at Exhibition Stadium as well as game four in KC. But the Royals fought back, taking the last two games in Toronto, 5-3 and 6-2. KC would later beat St. Louis in the World Series in another seven games after falling being 3-1.
That was 30 years ago. Man, a lot of time has passed.
Pete Rose was still a hero in Cincinnati, collecting his 4,192nd hit a few weeks earlier.
The first Nintendo game system was released two days after the ALCS ended.
That was the year when the Internet Domain System was created. Outside of geeks and scientists, no one knew what the "Internet" was.
Pretty much no one had cell phones.
The release of Windows 1.0 was about a month off.
Calvin and Hobbes still wasn't in newspapers. The strip would debut in a few more weeks.
October 21, 2015, seemed so far off when people went to see Back to the Future II.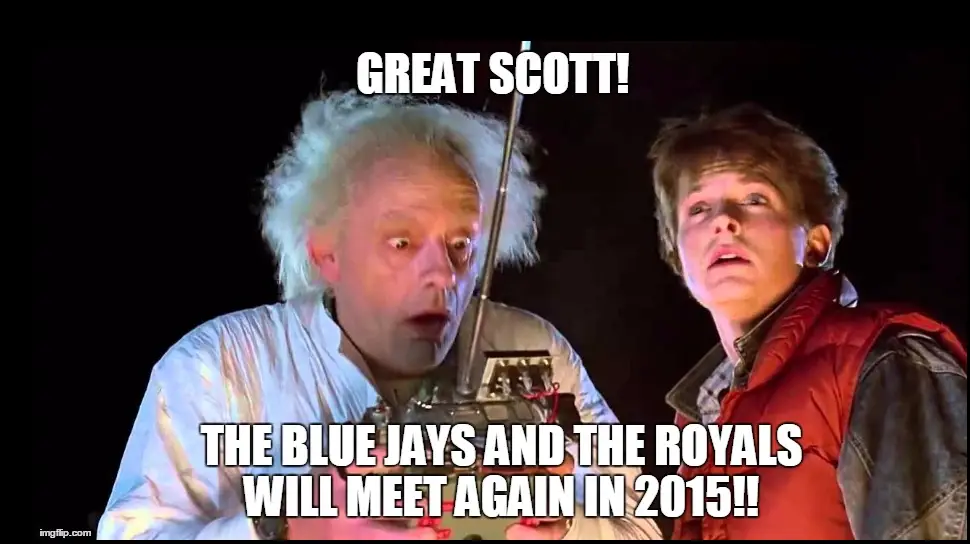 Let's talk about music. What was going?
This was the year the last time I watched the CASBY Music Awards from afar. I was still working at Q94-FM in Winnipeg but managed to keep up with that year's event. The winners were
Album of the Year: Parachute Club, At the Feet of the Moon
Single of the Year: Spoons, "Tell No Lies"
Group of the Year: Parachute Club
Female Vocalist of the Year: Jane Siberry
Male Vocalist of the Year: Bruce Cockburn
Most Promising Non-Recording Group: Chalk Circle
Most Promising Group of the Year: Pukka Orchestra
The Top 10 albums at the CFNY that year were:
| | | |
| --- | --- | --- |
| 1 | New Order | Low Life |
| 2 | The Cure | The Head On The Door |
| 3 | Kate Bush | Hounds Of Love |
| 4 | Tears For Fears | Songs From The Big Chair |
| 5 | Propaganda | A Secret Wish |
| 6 | Simple Minds | Once Upon A Time |
| 7 | The Smiths | Meat Is Murder |
| 8 | Prefab Sprout | Two Wheels Good |
| 9 | O.M.D. | Crush |
| 10 | The Waterboys | This Is The Sea |