What Wine Goes Best with Raw Human Face? Maynard Weighs In
Yes, this is gross and tasteless.  But with the zombie apocalypse apparently underway (although the CDC would have us think differently) linked with all these tales of cannibalism, you just knew that this topic was going to coming up.
Tool fans know that Maynard James Keenan is such a wine connoisseur that he owns a vineyard in Arizona. So who better to ask about a wine pairing with human face?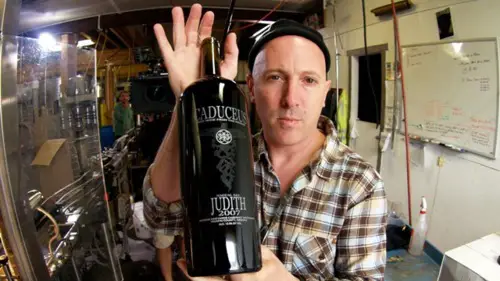 Some quotes from the Miami New Times:
Crossfade: What wine would you recommend with a human face?
Maynard James Keenan: Well, for cheeks you'll obviously want a pinot noir.
And the nose?
That's mainly cartilege so you're better off with beer. It's more aligned with hotdogs or bratwurst. That's true of the nose as well as the lips.
And tongue?
The tongue is heartier and is going to have a little gamier of texture. I'd go with a larger shiraz with some oak on it. Barolo, if you serve it raw. If you serve it raw with olive oil and herbs, you'll want a Barolo.
That sounds good for summer.
Yeah. Are there a lot of homeless people around that bridge?
There's a shelter only a few minutes walk away.
Then we'll arrive hungry. On one side of the building, does it say "Homeless Shelter" and on the other "Hometown Buffet"?
Now that you mention it, yes.
Cots can look remarkably like serving trays, especially if there is a spoon nearby.