What's this? A new/old Radiohead song was released today
Well that was a fun surprise on a Tuesday morning. 
Unexpectedly and with great fanfare, Radiohead announced Tuesday that it will FINALLY be releasing Kid A and Amnesiac, their brilliant double-album-that-wasn't, as a triple album in November. 
They made the news even sweeter by tossing out a new version of an old song. It's called "If You Say the Word" and dates back to the Kid A sessions. Before today, it's never been officially available anywhere, although it's been discussed as under a working title of "C-minor Song" for more than twenty years.
This will be part of a new triple reissue called KID A MNESIA coming on November 5. This will commemorate the 21st anniversary of Kid A and the 20th anniversary of Amnesic.
The third disc will feature outtakes and rarities like this.
This is what Radiohead was hinting at with this Twitter post.
"Kid A and Amnesiac are coming of age, and we thought we'd crash Jonny's birthday and throw them a party on November 5," the band says. "We are going to put the records out together for the first time, in lots of gorgeous guises masterminded by Thom and Stanley. We are also including a new release with the two albums, Kid Amnesiae."
The new album is "a collection of half-remembered, half-forgotten versions from those recordings, as well as a song we'd completely mislaid in some dusty attic corner, 'If You Say The Word.'"
Here's the full tracklisting for that third CD.
SIDE 1
LIKE SPINNING PLATES ('WHY US?' VERSION)
UNTITLED V1
FOG (AGAIN AGAIN VERSION)
IF YOU SAY THE WORD
FOLLOW ME AROUND
SIDE 2
PULK/PULL (TRUE LOVE WAITS VERSION)
UNTITLED V2
THE MORNING BELL (IN THE DARK VERSION)
PYRAMID STRINGS
ALT. FAST TRACK
UNTITLED V3
HOW TO DISAPPEAR INTO STRINGS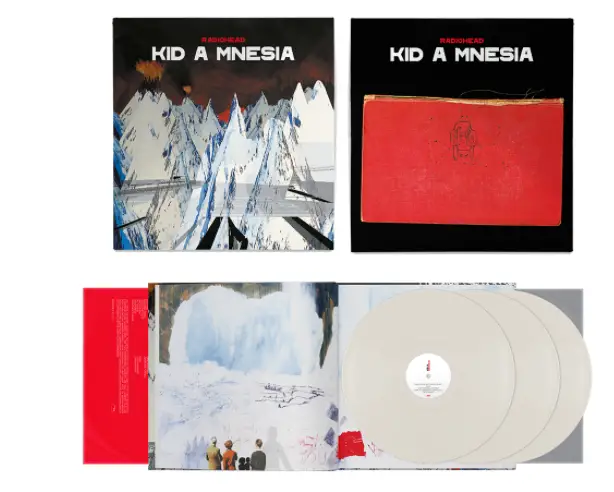 From the press release:
KID A MNESIA Deluxe LP — Limited edition 3xLP cream vinyl, on 180g – Kid A, Amnesiac (both half-speed cuts), Kid Amnesiae + 36-page hardback art book 
Kid Amnesiette — Limited, numbered edition of 5000, 2xCassette – Tape 1: Kid A / Amnesiac, Tape 2: Kid Amnesiae / 5x B-sides from the Kid A / Amnesiac era + 36-page booklet
… as well as indie exclusive limited edition red vinyl 3LP, black vinyl 3LP, 3xCD, and 3-volume digital formats.
Additionally, on the November 4th eve of KID A MNESIA's release, Canongate will release two art books by Thom Yorke and Stanley Donwood cataloging the visual works created during the Kid A / Amnesiac era:
KID A MNESIA Art Book – a 300-page celebration of the process and artwork created for Kid A and Amnesiac.
FEAR STALKS THE LAND! – A B&W paperback in which Yorke and Donwood's notes, lyrics and sketches are gathered together.