What's your preference for concert tickets? Paper, a phone app or something else?
Somewhere in my house, I have a shoebox filled with ticket stubs from concerts I've attended. This dates back to the days when we got hard tickets that were either torn or scanned at the door.
There are still shows that operate this way, but as ticketing becomes more and more virtual, the whole concept of physical tickets is disappearing.
Nostalgia for old-school tickets aside, this is actually a very positive development.
The best in-out experience I've ever had was at Coachella's Desert Trip a couple of years ago. Everyone was issued non-transferrable RFID bands that we wore for the entire weekend. To get in, all you had to do was tap your wristband on a pad at the gate. Queues were short and there were zero hassles with people fumbling with tickets or print-outs of barcodes.
But this is just the start because new ticketing technologies are being introduced. Paper tickets, printouts, and non-chipped wristbands are starting to disappear as the industry moves to mobile contactless methods as well as new RFID technologies.
A UK company called Data Label conducted a survey on what ticketing methods festival goers preferred, starting with this question: "Which method of entry and payment would you prefer to use at festivals?"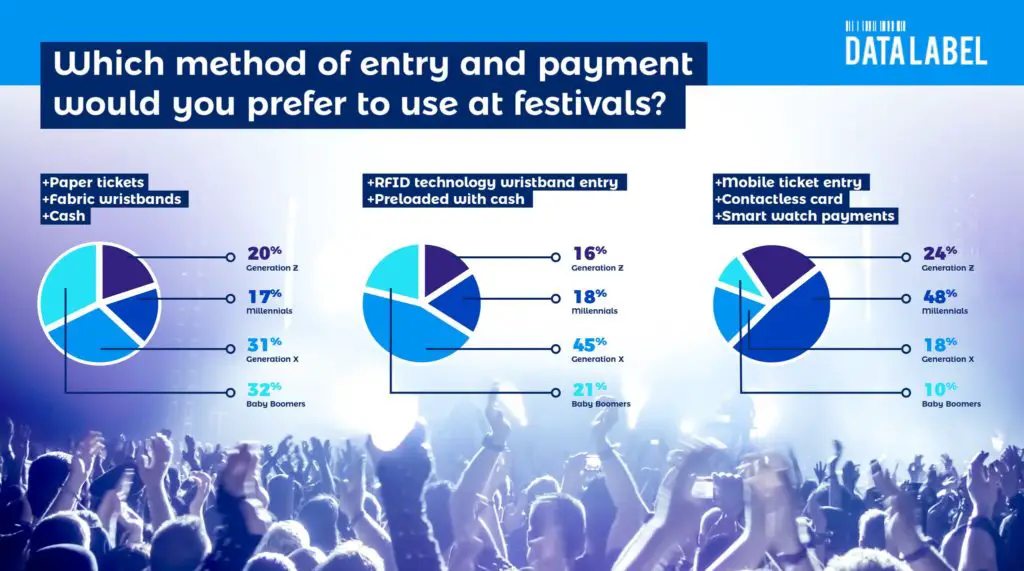 The company also looked at the newest and coolest technological advancements for music festivals. I quote:
Holographic concerts – Performances from past stars such as Michael Jackson have been reborn on stage for fans.
Virtual tours – A simulated festival experience which gives people the opportunity to experience behind the scenes and areas where no one gets to go to.
Meet and greet – Some festivals offer a simple touch of one another's wristband to stay in touch together, via Facebook or other social media.
Doppler Labs Here Active Listening – These customise what the wearer can hear at the concert, such as reducing chatter around them to amplifying bass of a set.
Power Banks swaps – These allow people to keep their devices powered, just use a power bank and when it runs out swap it for a full one. EE are spearheading this which allows people to keep sharing on social media and still use contactless on their devices.
Do you have any preferences? I tell you, though, once you go RFID, you'll never want to go back. Then again, it may not be long until facial recognition will be the thing for gig admission.