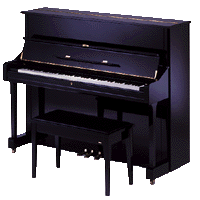 Great story from the New York Times:
The site, a trash-transfer station in this town 20 miles north of Philadelphia, is just one place where pianos go to die. This kind of scene has become increasingly common.
The value of used pianos, especially uprights, has plummeted in recent years. So instead of selling them to a neighbor, donating them to a church or just passing them along to a relative, owners are far more likely to discard them, technicians, movers and dealers say. Piano movers are making regular runs to the dump, becoming adept at dismantling instruments, selling parts to artists, even burning them for firewood.
"We bust them up with a sledgehammer," said Jeffrey Harrington, the owner of Harrington Moving & Storage in Maplewood, N.J. 
Read the rest of this sad tale here.