Whoa! U2's Management Company Being Sold to Live Nation! Madonna's Manager to Assume Control!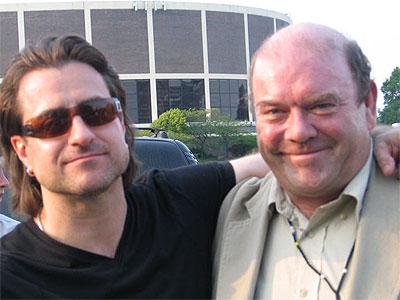 For U2's entire existence, they've been managed by just one person.  Paul McGuinness, an ex-film technician, caught the management bug by handling the affairs of a long-forgotten Irish folk-rock group called Spud.  He met U2 when they supported a group called The Gamblers (also forgotten) at a gig in Dublin on May 25, 1978.  They've been together ever since.
McGuinness really is the fifth member of U2, getting a 20% cut, just like everyone else in the group.  And he deserves it.
I've long maintained that McGuinness is one of the smartest managers rock has ever seen.  Together with the band, he's taken some big risks and tough negotiating stands which resulted in U2 owning their own master recordings, something that's almost unheard of in the business.  No wonder the group has a collective net worth of over a billion dollars.
All of U2's management is handled by Principle, a company McGuinness founded in 1984.  He chose that name because he wanted to be known as someone who was more "principled" than other managers. U2 is Principle's biggest client but the company also looks after the affairs of PJ Harvey and The Rapture. Given the size of the U2 empire, that's about all the company can handle.
Frankly, I can't imagine U2 without Paul McGuinness.  Like I said, he's been with the group for 35 years. But now, he seems ready to move on.  To retire–at least a little bit.
According to numerous reports, McGuinness is in negotiations to sell Principle Management to Live Nation. This $30 million deal would also include Live Nation's acquisition of Maverick, the company that takes care of Madonna.
Reports say that McGuinness would become chairman of Principle (whatever that means) while day-to-day management of U2 would fall to Madonna's manager, Guy Oseary.  
Here's what McGuinness told the New York Times:
"It could be seen as slightly poor etiquette for a manager to consider retiring before his artist has split, quit or died, but U2 have never subscribed to the rock 'n' roll code of conduct. As I approach the musically relevant age of 64 I have resolved to take a less hands-on role as the band embark on the next cycle of their extraordinary career.
"I am delighted that Live Nation, who with Arthur Fogel have been our long term touring partners, have joined us in creating this powerful new force in artist management. I have long regarded Guy Oseary as the best manager of his generation, and there is no one else I would have considered to take over the day-to-day running of our business."
Why Live Nation?  A couple of reasons.  First, U2 already has a long-term (12 years) touring and merchandising deal with Live Nation that was signed in 2008.  Second, the U2 organization has a tight, tight relationship with the aforementioned Arthur Fogel, the Canadian who's in charge of Live Nation's global touring division.  He was the guy who helped create and execute the record-breaking 360 Tour, which brought in $736,000,000 in ticket sales.
Having worked on a documentary about Fogel and his relationship with artists, I've had a chance to see and hear how much respect he gets from artists.  Not only is Fogel revered by U2 for his business prowess and business ethics, he's also admired by Madonna (who also has a long-term touring and merchandising deal with Live Nation), Sting, Neil Young, Lady Gaga, Depeche Mode and David Bowie.
Fine.  But let's get back to U2 without McGuinness.  One of the things a manager must do is keep their star clients in the right headspace.  The manager must allow and encourage the artist to be an artist and not get distracted.
And then there's the matter of money.  A manager must be absolutely 100% bulletproof when it comes to fiduciary responsibilities.  U2 is lucky in that regard. They've never had the experience of being ripped off by an unscrupulous manager.
Guy Oseary is also a brilliant manager and excellent tactian. But can he provide all the subtle, human-to-human things that McGuinness did?  
And what does this mean for the future of U2?  Is this the beginning of the end?  Could they be thinking about winding things down, too?  
This is one of the biggest baton hand-offs we've seen in rock in a long, long time.  It will be interesting.
Sidenote:  Word is that the new U2 album will be out in April.  There's also a rumour that they're working on some kind of "brand partnership" that may show up in a Super Bowl commercial.