Why are concert tickets so expensive? Because people demand expensive shows.
Here's a Led Zeppelin ticket stub from a show in Seattle on July 17, 1977. Note the price.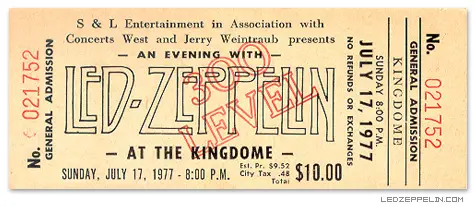 That's right. Ten dollars seems cheap, but that was the equivalent of around $40 today. Still, that seems to be a reasonable price to see the biggest band in the world, right?
Today, it's all but impossible to find a face value ticket this low for stadium acts. Why? The cost of staging shows has gone up exponentially in the last forty years. Back in '77, Zep fans were treated to a mostly bare stage with a few lights and sub-par sound. Today we expect a huge multimedia extravaganza.
The New York Post takes a closer look.
U2 had its 400-ton, 360-degree "Claw" stage that cost $30 million. Lady Gaga's 2013 concert circuit involved a looming five-story Gothic castle. Taylor Swift's ongoing Reputation stadium tour needs 52 semis and 30 flatbed trucks just to haul all the gear.
It isn't fans' imagination that music tours, particularly ones put on by the biggest artists, are getting more lavish by the year. For evidence in hard numbers, look no further than the mid-year report Pollstar released this week: The concert company found that the live market's 2018 mid-year gross is a record-setting $2.21 billion, up $240 million (12 percent) from the previous year, and that average ticket prices are at a record high of $96.31. Fans are hungry for live shows, and they're willing to splurge on them. "The precipitous rise speaks to the industry's aggressive pricing strategy to better meet demand and exclude the secondary market," Pollstar noted, as well.
But the soaring costs are also due to the fact that A-list concerts – which have been exploding in popularity as fans in the streaming era seek more interactive connections with their favorite musicians – are now regularly expected to be full-blown, Instagram-ready spectacles.
Read this. It'll explain a lot.