Why did Paul McCartney cross the road? To get to Abbey Road, of course
As The Beatles were wrapping up the recording of their new album, the plan was to call it Everest. Someone (it might have been Paul) wanted the artwork photography to be taken at the foot of the real Mount Everest in Nepal but was quietly reminded how expensive that would be.
Instead, Macca sketched out some ideas that featured the four members walking back and forth across the crosswalk ("zebra crossing" in Brit-speak) just south of the front gates of EMI Studios.
At 11:35 on the morning of August 8, 1969, photographer Iain Macmillan was given ten minutes to take six photographs. He stood on a ten-foot stepladder facing north whilst a cop help up traffic. Six photos were taken with Macca choosing this one after examining each one with a magnifying glass.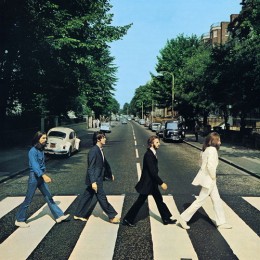 It was then decided to call the album Abbey Road after the street. Later, EMI Studio was renamed Abbey Road because of the attention drawn to the facility by this album and photograph.
This week, Macca was back in St. John's Wood to play a not-so-secret show at Abbey Road. Walking from his nearby house–the place at 7 Cavendish Avenue that he's owned since 1965–he had to cross Abbey Road at the same zebra crossing he used with his mates in 1969. Naturally, this drew a crowd.
Traffic is held up at that crosswalk at all hours of the day and night as Beatles fans from all over the world come to annoy the locals. (I do it every single time I'm in London. Every. Single. Time.) There's even a 24/7 webcam that you can watch.
A couple of fun facts:
The Volkswagen was owned by one of the residents of the apartments across from the studio. When the album was released, its license plate (LMW 281F) kept getting stolen. Sick of the attention, the owner sold the car in 1986 and as far as I know, it's on display in a museum in Germany.
The band in the brown suit is Paul Cole, an American tourist who had no idea what was going on.
Much of the "Paul is dead" conspiracy comes from this shot. Why is Paul out of step with everyone else? Why is he barefoot? Does Lennon's white suit anoint him as a preacher in a funeral procession? And then there's that license plate: Paul would have been 28 if (281F, geddit?) had he lived.