Why I Have Much Sympathy for Blink-182's Travis Barker Today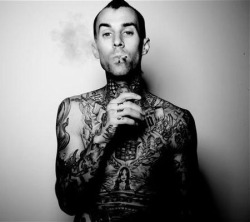 Blink-182's concert schedule is in chaos after drummer Travis Barker had to undergo an emergency tonsillectomy.
"Wait," I can hear you say, "Tonsillectomy? I had my tonsils out when I was a kid and all I remember is getting all the ice cream I wanted!"
True. But that was when you were a kid. Getting a tonsillectomy as an adult is much, much different and much more painful. I have first-hand experience of this.
I suffered through mainy painful throat infections as a kid, a teenager and as an adult. I wanted the damn things out but the prevailing wisdom of the era was to treat the condition–everything from routine infections all the way up to strep–with antibiotics.
And that worked. For a while.
By the time I turned 30, I was getting a throat infection every six weeks. My doctor finally said "You want those things out?" I said, "Hell, yeah!"
Getting your tonsils out as an adult is reasonably big deal. You don't heal as quickly or with as little pain as a kid does. In fact, it can get downright dangerous.
I should have guessed that it was going to be a bit of an ordeal when they doped me on morphine and Demoral for two days after the surgery. Then I was sent home with some regular Tylenol. It didn't work.
As my throat struggled to heal after the surgery, I couldn't eat, couldn't sleep, couldn't talk. The pain was excruciating. Even a simple swallow felt like the cuts of a thousand razor blades.
Then after two weeks of doing exactly what I was supposed to, one of the tonsil beds ruptured. In the dark of night as I was sleeping, I began to hemmorhage blood down my throat. It's a good think I woke up.
I drove myself to the emergency ward at 4:30am with my head out the window of the car so the blood would drain out instead of into my stomach. My the time the surgeon appeared to cauterize the wound–and you don't want to know how he did that–I had lost a litre of blood.
It took another month before I was even close to full strength. And given that I make my living by talking, it got pretty damn scary some days.
So Travis, my man, take all the time you need. Baby your throat. Don't let anyone rush your recovery. An emergency tonsillectomy is nothing to take lightly.