Why Your iPhone Goes "Boo-Dah-LING" When You Get an Alert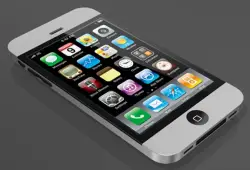 I love knowing why things are they why they are. Who, for example, came up with that three-note default musical alert used by Apple? I'm glad you asked.
It was Kelly Jacklin. Here's the explanation of how it all came to be.
Back some time in 1998, a friend I used to work with named Jeff Robbin approached me about a project he and Bill Kincaid were working on, which was called DAS at the time (not sure what that stood for, probably Digital Audio Something-or-other), but would eventually become SoundJam (and then SoundJam MP), and would then eventually become iTunes (once Apple bought it). At the time, in my usual myopia, I thought "who the hell would want a Mac version of WinAmp?!?", silly me… I had just had my first kid, and was winding down my work on the Java Runtime and JITc , and was transitioning over to the OS group, so I was pretty busy, and my job was secure and cushy, and I didn't feel like taking any risks. I was not interested, but told him that I'd be happy to play with the app once they had it working.
Their development continued, and they added disc burning to the app. At some point, Jeff and I were chatting about his disc burning feature, and he said he needed some way to inform the user that the burn was done. DAS being a sound-making app, he wanted a sound to alert the user, something simple. Since I'm a hobbiest musician, and had a recording setup, I told him I'd tinker around and see if I could some up with something.
Continue reading–and then listen to how things might have sounded.