What Will Happen to Hit Music Radio in the Era of Streaming?
If you're a fan of Top 40–CHR (Contemporary Hit Radio in industry parlance)–you'll know that the biggest songs of the day are repeated over and over again. It's not uncommon for the top half-dozen or so songs to be played over 100 times a week, or roughly once every hour and forty minutes.
The reason for the high repetition is twofold: (1) Hit music listeners tend to voraciously consume the same song for a short period of time before moving on to the Next Big Thing; and (2) Thousands of individuals are constantly tuning in and out during the broadcast day. Repetition increases the chance that a high number of people will hear a hit song whenever they turn on the radio.
The Top 40 format has been massively successful since it was invented in the early 1950s. But what does the future hold in the era of streaming?
To understand the problem, let's go back to the glory days of MTV and MuchMusic. We'd sit in front of the TV for hours, waiting for our favourite video to come on. Now, though, we have YouTube and virtually every music video ever made (and then some!) is available instantly. No one watches the video music channels or music videos anymore, which explains why they've all but disappeared from those networks' programming.
Now let's apply the same scenario to Top 40 radio. Its greatest audience is young people, the same demo that's increasingly embracing streaming as its source of music. Why wait for the radio to play your hit song when you can listen to it instantly? Besides, what if your radio station isn't playing the songs you consider to be hits? Streaming takes care of that.
Bridge Ratings, a company that follows consumer behaviour, published an article entitled "Why Radio Can't Accommodate Today's Hit Music."
Historically, traditional music radio didn't worry about how to manage multiple songs by hot artists. The record companies would release a single, if the stations' programming directors thought those songs were hits, they'd play them until that song ran through its popularity lifecycle; then the record company would release the artist's next single. It was a comfortable process – one that followed a process and it worked.
On-demand streaming has changed all that.
My company, Bridge Ratings Media Research, has been providing on-demand streaming data to radio stations, internet radio and record labels for over four years. During that time we've learned much about music consumption and how radio can properly reflect audience tastes.
After an analysis of four major radio formats (Top 40, Country, Urban, Rock) in 143 markets, it is clear that radio is not reflecting the streaming consumption patterns of its listeners.
But when labels and/or artists drop multiple tracks within a short period of time, radio struggles to properly expose that music to keep up with the audience consumption of those songs.
Read the rest of the article here. Then take a look at this chart for a nice, clear explanation.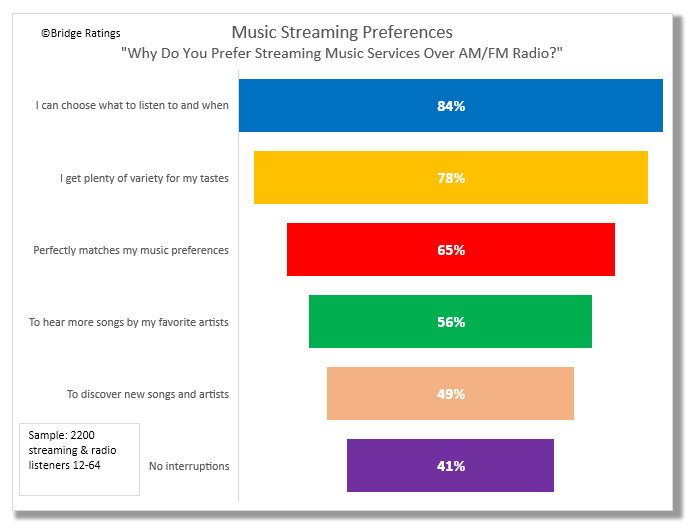 And this isn't the only study that shows how streaming is slowly taking over listeners in America, especially the younger demos. Check out this one from Fluent which says much the same thing.
So how can this be countered? I like the idea of reserving hours of the day for music that's hot with streamers and not necessarily on the radio (and all formats, not just CHR.) Coaching announcers to provide human context to the music. Greater variety and bigger libraries.
To be clear, radio is still very healthy, powerful and profitable. But the industry definitely needs to up its game in light of competition from streaming services.