When Will the Music Industry Bottom Out? In About Four Years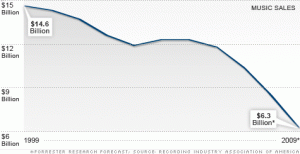 It's been a rough decade-and-a-half for the recorded music industry.  There's a whole generation that knows of nothing but declines in sales and revenue. When's it all going to end?  By 2019 or so.  Billboard reports:
Driven by new streaming businesses, the global record business will return to growth by the end of the decade, according to a new report by MIDiA Research — but not before it peters out.
"Global Music Forecasts 2014 to 2019: The Shift to the Consumption Era" portrays a global marketplace running towards a standstill. The loss of revenue from older products offsets gains from the emerging services that provide a path to the future. The challenge will be to offer new services at prices that will attract mainstream consumers in markets of varying income and tech adoption levels.
Here's a snapshot of MIDiA's forecasts for 2014 and beyond: