Will the Beatles be on the New £10 Banknote? Maybe.
Portraits on money are usually reserved for heads of state, monarchs and political heroes. In some cases, historically important characters also get their faces on money. Ben Franklkin, for example.
The Bank of England–now run by a Canadian, by the way–is planning to issue a new £10 note. They're thinking hard about whose image should adorn the next generation of the tenner. This is where we start talking about "historically important characters."
The Daily Mirror has a list of 150 British people suggested by members of the public to appear on one side of the new bill. The list includes The Beatles, Mick Jagger (but not Keef) and Robbie Williams.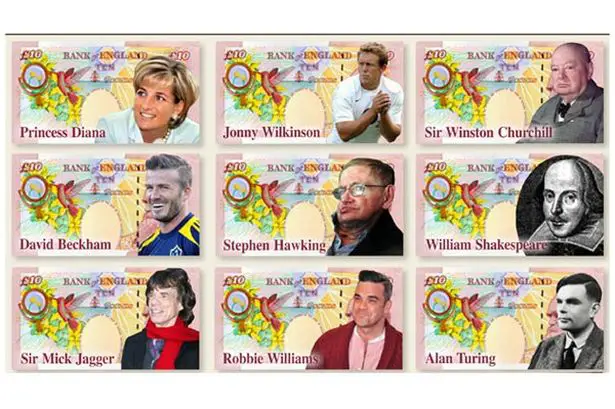 Other suggestions include David Beckham, Princess Di, John Cleese (!!!) and Stephen Hawking.
Canada is in the process of renewing our money, too. Next up is the ten dollar bill. Any suggestions as to which Canadian music stars could be on the flip side?