William Shatner's Seeking Major Tom (Stream)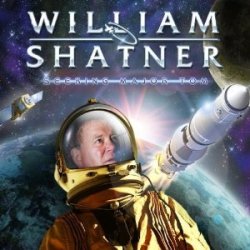 The Shat has a busy fall. Not only does he have a new book, DVD and concert tour planned (details here), he's recorded a concept album that furthers the adventures of David Bowie's doomed spaceman, Major Tom.
Seeking Major Tom arrives in stores on Tuesday. Guests include everyone from Nick Valensi from the Strokes and Mike Inez from Alice in Chains to Dave Davies of the Kinks, Peter Frampton and Bootsy Collins.
Here's the full track listing. Stream the whole thing from SoundCloud.
1. Major Tom (feat. The Strokes' Nick Valensi and Zakk Wylde on guitar and and Mike Inez (Alice In Chains) on bass)
2. Space Oddity (David Bowie) [feat. Ritchie Blackmore (ex-Deep Purple) on guitar and Alan Parsons on keyboards)
3. In a Little While (U2) (feat. Manuel Göttsching from Ash Ra Tempel on guitar)
4. Space Cowboy (Steve Miller) (feat. Brad Paisley on guitar and vocals)
5. Space Truckin' (Deep Purple) (feat. Deep Purple drummer Ian Paice and Johnny Winter on guitar)
6. Rocket Man (Elton John) (feat. Steve Hillage (ex-Gong member) on guitar)
7. She Blinded Me With Science (Thomas Dolby) (feat. Bootsy Collins on bass and Patrick Moraz (ex-Yes and Moody Blues) on keyboards/synth)
8. Walking on the Moon (The Police) (feat. Toots (Toots & the Maytals) on vocals)
9. Spirit in the Sky (Norman Greenbaum) (feat. Peter Frampton on guitar)
10. Bohemian Rhapsody (Queen) (feat. John Wetton (Asia) on bass and vocals)
11. Silver Machine (Hawkwind) (feat .Wayne Kramer (MC5) on guitar and Carmine Appice (Vanilla Fudge/Rod Stewart) on drums)
12. Mrs. Major Tom (feat. Sheryl Crow)
13. Empty Glass (The Tea Party) (feat. Michael Schenker (UFO/Scorpions) on guitar)
14. Lost in the Stars (Frank Sinatra version) (feat. Ernie Watts on saxophone)
15. Learning to Fly (Pink Floyd) (feat. Edgar Froese (Tangerine Dream) on guitar and keyboards)
16. Mr. Spaceman (The Byrds) (feat. Dave Davies (The Kinks) on guitar)
17. Twilight Zone (Golden Earring) (feat. Warren Haynes (Gov't Mule/Allman Brothers) on guitar)
18. Struggle
19. Iron Man (Black Sabbath) (feat. Zakk Wylde on guitar and vocals)
20. Planet Earth (Duran Duran) (feat. Steve Howe (Yes) on guitar)