You Won't Believe This Promo Video for a Vietnamese Airline
When I visited Vietnam a couple of years back, I found the people to be warm, friendly and very modest. Even in the stifling heat and humidity, the amount of flesh exposed by both sexes was less than what we see during a Canadian summer.
Then there's VietJet Air, the country's only privately-owned airline. It airline has been a massive success, capturing a full 30% of the country's market share.The company is run by Nguyen Thi Phuong Thao, who, as CEO has become the country's richest woman with a net worth somewhere around $1.37 billion USD. She made her first million when she was just 21 by trading in latex rubber and fax machines. Now 45, she's about to take VietJetAir public.
So what does any of this have to do with music? This:
This is not some weird promotional video. The flight attendants on VietJet Air really do dress like this.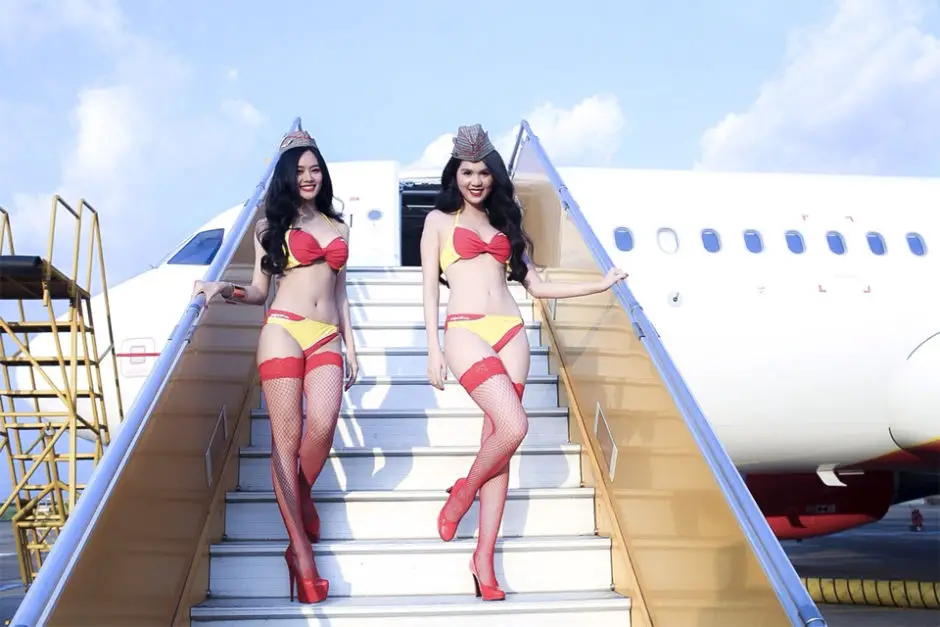 By the way, the company is currently hiring.
As Vietnam's fastest growing airline, Vietjet is constantly expanding its fleet while also extending its flight network throughout Vietnam and across the region. Vietjet is a new – age airline which always offers you flexible choice toward air fare, baggage, hot meal and souvenir on a safe and amazing flight. To facilitate this dynamic growth, Vietjet is also currently seeking dynamic, customer-focused candidates to join the airline's famously fun and friendly cabin crew:
– Attractive income and benefit
– Friendly, professional and fun working environment
– Unlimited training and promotion opportunities.
– Creative and challenging minds for improvement
Requirement:
– Age: 20-30
– Male: Height from 1m70 – 1m80
– Female: Height from 1m60 – 1m75 (1m58 is acceptable for the candidates having cabin crew experience)
– Minimum high school Degree
– English: TOEIC certificate with a score of more than 400 (or other relevant certificates)
– Personality: active, dynamic, good communication skill
– Flexible in adapting to new working environment
– Excellent customer service skills
Talk about flying the friendly skies, huh?