Is the World's Biggest Private New Year's Party On This Year or Not?
Every year the Russian billionaire (and owner of Chelsea FC) Roman Abramovich holds a massive New Year's Eve party at his compound on the Caribbean island of St. Barts.  A-listers from around the world–George Lucas, Harvey Weinstein, Daniel Craig, Martha Stewart, P-Diddy and their ilk–board their private planes or their mega-yachts and make their way to his incredible 80 acre spread bordering on a beach called Gouveneur.
Roman spends a ton on his party–$10 million or more, including a massive fireworks display.  And he doesn't hold back when it comes to providing entertainment, too.  In the past, he's hired the Red Hot Chili Peppers, Prince Beyonce, Gwen Stefani and Kings of Leon.  I would kill to be at this party.
But this year, something is missing.  Is there going to be a party or not?
One set of rumours says "yes."  Back in September, my sources (and yes, I have impeccable sources on the island) said that Lady Gaga was to be paid $2.5 million to play the party, largely at the behest of  Dasha Zhukova, Roman's girlfriend. Other rumours say that Adele is being asked to perform, again at the request of Dasha.
But just a moment.  My sources  on the island say there will NOT be a New Year's party at Roman's place this year.
St. Bart's is a tiny place–just eight square miles–so it's impossible to keep secrets.  The whole island is buzzing with the fact that there's space at the port this December.  By now it's filled with containers of gear and supplies that need to be shipped int for Roman's party.  This year?  Nothing.  There's plenty of space at the port.  Meanwhile, local suppliers–including the owner of one of Roman's favourite restaurants–are wondering where all the orders are.
Another source tells me that Roman won't be on the island for New Year's because Vladimir Putin has ordered all his oligarch friends to be in Moscow for January 1 as part of a kick-off for the Sochi Olympics.
And just a week ago, I stood at the gate to Roman's compound.  No sign of anything happening.  Nada.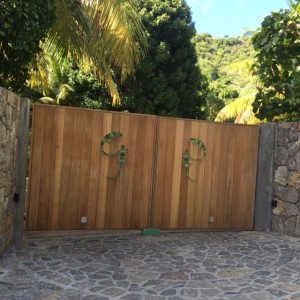 It seems that if there is to be a party, it'll be after January 1.  Maybe.
I know this is all smarmy celebrity gossip, but it's one of the few things in this area that fascinates me.