Worst Use EVER of a Smiths Song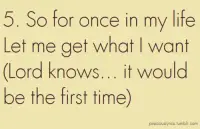 How many kids–many even you–wept in their room at night, bereft overt…something while listening to the Smiths' "Please, Please, Please Let Me Get What I Want"? Millions must have taken solace in those words. It is this kind of song that make the Smiths so enduring and their lyrics so universal. "Please" can be useful in so many emotional situations.
I'm pretty sure, however, that Morrissey didn't have crass Christmas consumerism in mind when he wrote the song. Yet what the f*ck is the deal with this new commercial campaign in the UK?
Morrissey and Marr have granted permission for use of the song to help sell stuff this holiday season. Yes, it's a cover and not the original, but still.
Smiths fans are shocked, shocked that such a precious song be perverted in such a way. As Neil McCormick writes in the Telegraph today "Heaven knows I'm miserable now."