Wow, This is Depressing. Most Americans Prefer Listening to Music Through Computer Speakers
FYI Music points to this article at Digital Music News.
According to a survey conducted by Strategy Analytics, built-in computer speakers are now the most common way to listen to music, by a sizable margin.  In the study, laptop and desktop speakers overwhelmingly topped the list of frequently-used listening methods, with 55% picking the category,
[…]
But this low-quality tale gets even more woeful.  According to the study, despite the relatively low quality devices selection, 43% of respondents reported being 'very satisfied' with the audio quality, with 26% 'somewhat satisfied'."
David Watkins, Strategy Analytics' director of Connected Home Devices, blames a technological rush that has always prioritized convenience over quality.  "Music's focus over the past decade has been about usability and convenience – being able to get it on as many devices as possible – whilst sound quality has been largely ignored or forgotten in this race to portability," Watkins said.  "It's bred a generation of listeners who've never really known what it's like to listen to high quality sound and, consequently, is already sounding the death knell for the likes of the hi-fi system."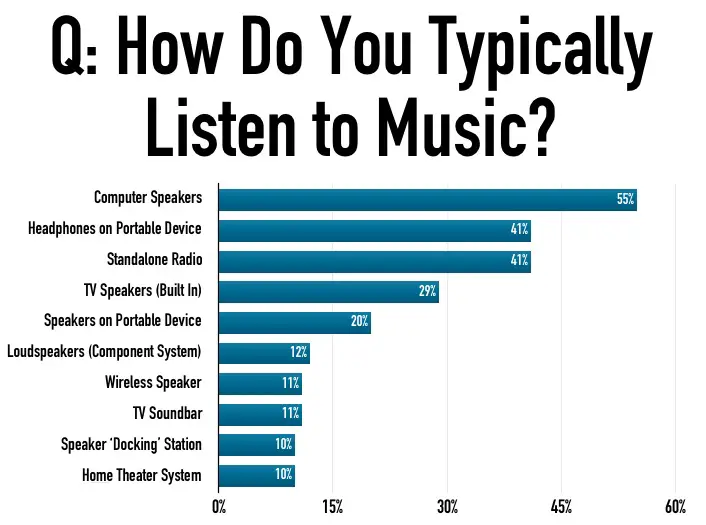 We have to fix this. People are missing out on the high-fidelity glories of music. This is like saying "I'm okay with listening with music on AM radio." WTF, people? This is why I and the consumer electronics industry are hoping that people will see the value in moving to Hi-Res Audio.
Stop cheating yourself! Buy some goddam speakers!