Why Wu-Tang Will Release Just One Copy Of Its Secret Album
In case you missed it, The Wu-Tang Clan have recorded, in secret, a new album.
And in this case, I really do mean A new album. As in one, single, copy.
In a very expensive box.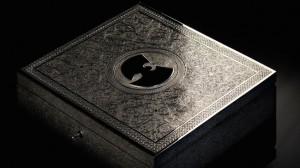 It's an interesting concept but it does bring up some questions. Why? Why only one copy? What could Wu-Tang hope to gain out of this?
In a word, noticed.
The Wu-Tang have been off the radar for a while. It's various members have done solo albums, movies, comic books and other endeavours. While I don't doubt that the Wu-Tang are doing this partially as an art experiment, it also happens to be a way to get attention back to the Wu. I'm talking about them, if you're reading this, it's caught your attention.
If all goes to plan, fans will get a chance to hear the album through this museum / art gallery tour and with a good chance that of a live tour and performance of this music. While it's kind of stated that the owner of this one of a kind record may have the option of releasing it themselves but it would almost be better for the group if he doesn't. There would be a mystic about the album, live bootlegs of the songs will circulate, the story of the One album will be talked about among fans. When I was younger, Prince's "black album" was like that; an unreleased piece of music that generated a lot of rumour, fascination and interest with the material and the artist.
In the age of the internet, this isn't the most likely thing to happen but at anyrate, what the Wu-Tang Clan are doing is really kind of interesting, it'll be something to watch as to how it all plays out.