Yep, Connected Cars Are Becoming a Big Thing
Nielsen recently published a study on the wants and needs of consumers regarding automobile infotainment systems. RAIN reports:
Nielsen published its latest insights on the outlook for connected cars. The high-tech vehicles were most appealing for the cool factor; 60% of future auto intenders said they want one to experience emerging technologies. But the desire for entertainment on the road was a close second, at 58% of future auto intenders.
In fact, the Nielsen results revealed that 36% of connected car users streamed audio every time they got in their vehicle during the second quarter of 2014. Another 36% streamed audio regularly, if not every single time. Only 8% said they rarely or never used that feature. The results also showed that 26% of these vehicle owners connected to the Internet every time they got behind the wheel, and 21% used that web connection to download media every time they were in their car.
There's a nice chart, too.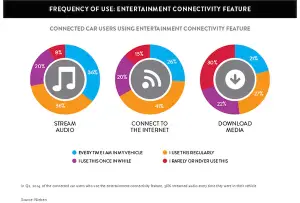 If you're going to be shopping for a new vehicle in the next year or so, keep this information handy.