Yep, More Young People Are Getting Into Vinyl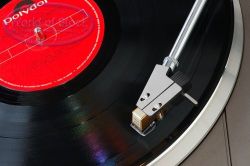 Here's a fascinating article from the Huffington Post about how Millennials–Generation Y–are getting deeper into their parents' vinyl album collections.
Cleaning my basement the other day turned into a musical archaeological dig. I unearthed a Men at Work vinyl album from when I was 8, a bag of old-school rap cassettes ranging from Fresh Prince to N.W.A. and a flipbook of alt rock-era CDs from Alice in Chains and Beck to Smashing Pumpkins and Tool, each one of which I still know by heart from the first track to the hidden one. (Ask a Gen Xer, they'll know what I'm talking about.)
Nowadays, most everyone, especially young folks, have ephemeral MP3s scattered across their hard drives and smartphones. Increasingly, they don't even bother with downloads but simply stream songs via services like Rdio.
Millennials have never really known a world, at least for the past 13 years, in which every song they ever wanted wasn't readily available to them freely file-sharable, for a buck on iTunes or though a subscription. The generation of young adults born after 1980 listen to more, and more varied, music than perhaps any generation before them, but has their relationship with the songs themselves been irrevocably altered?
This is good.  Continue reading.