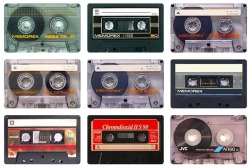 Next to 8-tracks–a format that I completely skipped–cassettes are my least-favourite format. Yes, they were convinient for their day, but I thought we've moved beyond the bad fidelity, the jamming and the time it takes to make a mixtape in real time.
But just like they are with vinyl, retro-minded people seem to be gravitating back to cassettes for some ungodly (and in my opinion, misguided) romantic notion. From The Independent:
Some of us kissed goodbye to cassettes a long time ago and embraced the CD and digital download, but the humble cassette has been enjoying a resurgence, its popularity shown by indie bands including MGMT, British Sea Power and She & Him, and record labels, releasing new music on the old format.
MGMT chose the cassette format to release their new song "Alien Days" last weekend to mark Record Store Day. The limited-edition cassette made the perfect collector's piece for super-fans, while the accompanying code allowed fans to download a song that is likely to make the Brooklyn indie-pop band's upcoming new album, set for release this summer.
Meanwhile, She & Him, the Sixties-pop-inspired American duo comprising actress singer Zooey Deschanel and M Ward, are releasing their new album Volume 3 on cassette as well as the usual CD and vinyl formats through their US record label Merge. Last year, Dinosaur Jr. sold a cassette trilogy of their first three albums – 1985's Dinosaur, 1987's You're Living All Over Me and 1988's Bug – limited to 500 hand-numbered copies with original artwork.