Yes, Miley Cyrus is Creatively Bankrupt, But Here's Why She Did What She Did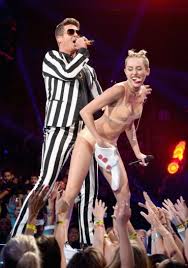 People are still talking about Miley Cyrus' embarrassing display at the MTV VMAs on Sunday.  Her performance was sensationalistic sexist crap that did nothing for talented female performers who are struggling to be taken seriously.
So why did she debase herself that way?  Let's look at the numbers.
-Pre-orders for her new album, Bangerz (due October 8), has risen into the Top 5 on the iTunes charts.
-"We Can't Stop"–which has been the most-streamed song in America for weeks–will remain on top when the numbers are released tomorrow.
-Although digital sales of "We Can't Stop" will probably fall slightly this week (natural if you keep in mind that the charts close Sunday night at midnight, just a few hours after her MTV appearance), predictions are that it'll receive a 10 to 20% bump in time for next week's charts.  That'll push close to 200,000 downloads for the week. (And watch for co-conspirator Robin Thicke to see another blast of sales for "Blurred Lines.")
-Meanwhile, "Wrecking Ball," the second single from Bangerz which was released as part of the pre-sale for the album over the weekend, will possibly enter the Top 10 with well over 140,000 downloads.
-Cyrus has picked up another 50,000 Facebook likes since Sunday.
Er, what was the question again?
(Via Billboard)