Yet Another Jack White Project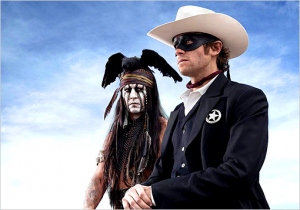 Just hours after Jack's solo album, Blunderbuss, appeared in stores came the announcement of a new project.
Jack has agreed to compose the score for a big-screen remake of The Lone Ranger, which will start Johnny Depp and feature Armine Hammer (The Social Network) as Tonto.  This means Jack will have to do something fresh with the William Tell Overature, which, of course, is the traditional Lone Ranger theme.
This isn't Jack's first bit of film work.  He wrote some of the material for Cold Mountain and performed "Another Way to Die" with Alicia Keys for the Bond film, Quantum of Solace.